Overview
Transforming the Brand Consumer Relationship
In the digital world today, it is consumer engagement and not transactions that is a much better indicator of loyalty. Engagement Junction™ is a next generation software platform from Happiest Minds for Digital Consumer Engagement. With a wide array of rich, pre-built engagement type templates, Engagement Junction™ helps brands "close the loop" with their consumer communication and gamify the experience for consumers by offering loyalty points for every digital interaction. The benefits include structured and sustained interactions with consumers, deep consumer insights, and increased loyalty.
How does it work?
For a brand manager
Choose and Configure an engagement type
Select a target audience
Promote (Publish) the engagement over multiple channels
For a consumer
Receive an invitation for a digital engagement
Participate in the engagement and earn points
Redeem the points for exciting prizes
Features & Benefits
Features
Cloud based SaaS platform with reliable, secure hosting and complete confidentiality of brand and consumer information
Rich, pre-built, completely configurable engagement templates
Reward point allocation and redemption along with gamification features
Rich aggregate insights at engagement and brand level
Identification of brand influencers and advocates
Benefits
Structured, sustained consumer engagement
Reduction in cycle time for consumer feedback from several weeks to a few days
Rich, actionable insights derived from consumer feedback
Increased brand loyalty and advocacy leading to collaborative marketing with consumers
Consumers getting a say in brand strategy and product innovation
Why Digital Engagement & Loyalty Solutions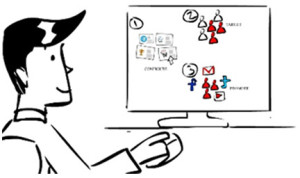 For any brand in the digital world today, the need of the hour is Digital Consumer Engagement – the ability to engage with their consumers using digital and social media. Current platforms provide basic engagement and can help create awareness about your brand. However, they are not able to address three fundamental business needs: Engaging with consumers in a structured and sustained manner, Deriving deep consumer insights, and Influencing brand advocacy.
Industries
FMCG, or fast-moving consumer goods, is one sector that truly cannot be ignored; these goods are sold on a massive scale throughout the world every day, and many billions of pounds are spent in an effort to take even a small corner of this multi-billion pound market. Brands in Fast Moving Consumer Goods industries can use Digital Engagement & Loyalty solutions to gauge consumer insights for a new product launch and conduct digital sampling.

Brands in Health Care industry can use Digital Engagement & Loyalty solutions to generate brand sentiment insights and also generate leads for health checkups. The Brands can send the customers reminder of their health checkups and this will lead to improved outcomes, patient retention, loyalty & growth. Also Brands can connect with the existing patients to receive feedback on services provided and also create awareness about existing medical facilities.

Retail Brands can use Digital Engagement & Loyalty solutions to get consumer profile analytics and also to increase footfalls to their stores. The Brands can engage consumers to participate in the various types of engagements and reward them with points, and consumers can redeem those points, this will lead to Brand loyalty and increase in store footfall.

Hospitality brands can use Digital Engagement & Loyalty solutions to get brand awareness insights and also achieve demand shaping for lesser known properties and off season occupancy. Brands can run a campaign platform that caters to project specific marketing needs. Brands can also connect with the existing consumers to receive feedback on the project delivered also they can receive consumer insights on the expectations from the new project launch.

Event management brands can use Digital Engagement & Loyalty solutions to get pre-event consumer insights through sustained pre-event engagement.  Brands can use Digital Engagement & Loyalty to increase leads and enquiries for ticket sale, create more awareness about the event, and get insights from the participants about what kind of services they would require.

Banking, Financial Services & Insurance industry brands can use Digital Engagement & Loyalty solutions to cross-sell and upsell new products and get Consumer Profile Analytics. Brands can personalize their offerings according to what the customer's expectations are and thus engage him in different engagements.

Travel brands can create demand insights for package promotions. Airline brands can conduct in-flight engagement.  The promotions would be customized and personalized thus leading to customer loyalty. Engagements will add an extra element of fun and for participating in the engagements the customers would get points which they can redeem it.
Resources
WHITE PAPERS

Brochures

Videos