Security is fundamental to ensuring business continuity, trust, value, and reputation. And as internal and external threats or attacks have evolved and continue to infect our digital space, Zero Trust Architecture (ZTA) assumes its key role and function in preserving the system's confidentiality and integrity of sensitive data.
The ZTA principle requires that no user, system, network, or services deployed and operating either inside or outside the network is trusted. All access must be explicitly verified leveraging authentication, authorization before granting access to any entity and continuous evaluation and monitoring is done for all such connections/ sessions.
By adopting Zero Trust, organizations gain proactive and intelligent security that is agile, monitors user actions, detects anomalies and attacks in real-time, and embraces dynamic work models in a complex environment today to offer enhanced data protection and productivity.
Happiest Minds Zero Trust Approach
The Happiest Minds Zero Trust strategy adopts an elaborate model for assessment, reduction, and management of vulnerabilities to project the impact of possible cyber-attacks, mitigate risks, and meet privacy regulations.
Our experts work with you to fuel your Zero Trust Security innovation and transformation strategy by: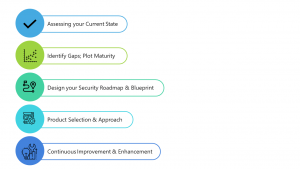 Offerings
Zero Trust Architecture (ZTA) Readiness assessment
Zero Trust Architecture (ZTA) adoption roadmap
Zero Trust identity (ZTI) Architecture assessment and roadmap
Zero Trust Network Architecture (ZTNA) assessment

End point Security and compliance
Zero Trust Network Architecture (ZTNA) Solutions
Network segmentation and Micro segmentation
Data, Applications and Cloud Security

Continues Monitoring and incident response
Resources
WHITE PAPERS

Zero Trust Networking

This white paper explores modern Zero Trust Networking approach ensuring minimal threats…
Cyber Security has become one of the top priorities in today's hyper-connected fast-growing technologies like cloud, mobile, and virtualization, making the lives of security professionals more challenging. Building multiple layers of security on the perimeter such as VPNs, access controls, firewalls, IDS, IPS, SIEMs and email gateways are no longer considered fully effective. It needs to be combined with Privileged Access Management.
Most of the cybersecurity professionals believe Privileged Access Management (PAM) as a critical initiative and a requirement to demonstrate compliance with regulations, but most of them fail to implement an appropriate level of PAM controls due to
 Complex IT environment
 A narrow focus on a point PAM solution
 Overwhelming integration needs
 Limited resources and expertise
It is not that deploying a Privileged Access Management (PAM) solution in your organization makes you risk-free. Still, it requires a solid PAM strategy to protect the organization's assets and fast track the process towards becoming compliant. Privileged Access Management plays a vital role while implementing Zero Trust Architecture in your organizations by enhancing the control to manage remote access.
Benefits of PAM Solution

PAMaaS powered by CyberArk Service Offerings
Happiest Minds Privileged Access Management as a Service (PAMaaS)- powered by CyberArk provides organizations with one stop solution to address their privilege account management requirements end to end. Our PAMaaS suite leverages strong security controls provided by CyberArk and presents our customers with flexible deployment options, lower TCO, faster ROI, easier adoption of industry best practices and is heralded by certified professionals and Cybersecurity leaders.
Offerings
End-to-End Accountability
Product Licensing
Strategic Planning and Solution Design
Deployment and Maintenance
Robust Governance Framework and Clear Communication

Built-in Redundancy with High Availability and Disaster Recovery on Distributed geo-locations
Multiple Deployment methodology – SaaS, Cloud, or On-Premises
Highly Scalable and Extendable Design Approach for Agility

Virtual CTO Consulting for PAM Advisory and Best Practice Recommendation
Certified Consultants with Referenceable Credentials and Domain Expertise
Flexible BAU Support Options:

8X5; 24X7; 24X5
On call support
L1/L2; L3 only or L1/L2/L3 support
Resources
WHITE PAPERS

Case Studies

Brochures
Contact us