Securing your business data and ensuring the same level of security to customer's sensitive information requires constant attention and proper guidance of an executive-level leadership popularly known as CISO (Chief Information Security Officer). A CISO is responsible for defining and enforcing organizations' cybersecurity culture, policies, procedure, and security architecture. The challenge here is that not many organizations can afford a full-time executive-level CISO to oversee these functions, given the limited access to cybersecurity experts in the market today. Hence there is a need to bring such leadership insight through Virtual CISO to address the following challenges which many organizations face.
Key Cyber Security Challenges
Increasing threat landscape
Evolving regulatory compliance
Unaware employees and Insider Threats
Shortage of skills
Cyber Security budget
Average time to respond
Internet of Things – Everything is connected
Cloud adoption shadow IT
A vCISO (Virtual CISO) or on-demand CISO can bridge these gaps. A Virtual Chief Information Security Officer is an outsourced security advisor whose responsibilities varies depending upon your business needs. A virtual CISO can be a cost-effective approach to having the access your company needs to high-end cybersecurity professionals.
Virtual CISO (vCISO) key responsibilities are:
Provide leadership on risk, governance, Incident Response, Disaster Recovery & Business Continuity
Provide Expert assessment on security threats, risks compliance
Provide consultation to build effective cybersecurity & resiliency program
Facilitate the integration of security into your business strategy, process & culture
Manage the development, roll-out, and ongoing maintenance of cybersecurity programs
Assist with integration and interpretation of information security program controls
Serve as an Industry expert (HIPAA, PCI-DSS, NIST, ISO 27001, various standards, and compliances)
Serve as security liaison to auditors, assessors, and examiners
We, as a digital transformation and infrastructure security company, introduces its Virtual Chief Information Security Officer (vCISO) as a service. With our vCISO program, you will have access to a pool of seasoned cybersecurity practitioner who will fill the role of a Chief Information Security Officer (CISO) in your organization and business. With the help of this program, your organization will be equipped with the leadership and skill of a CISO who will define the vision, strategy and cybersecurity program to ensure your organization's information assets and technology protection.
Offerings
Drive Business and cyber risk strategy alignment, innovate, and instigate transitional change to manage risk through valued investments.

Integrate with business to educate, advise and influence activities with cyber risk implications.

Protect business assets by understanding the threat landscape and managing the effectiveness of the cyber risk program.

Assess and implement security technologies and standards to build organizational capabilities.
Resources
WHITE PAPERS

Case Studies

Brochures
Security can no longer be considered as an optional service, and when you embed security into the software development lifecycle (SDLC), you have applications that are safe and protected by design, not by accident or coincidence. A robust application security program will help enterprises build security into the application development lifecycle (SSDLC), develop security guidelines and standards, create awareness and security training, and execute effective application security assessments.
Happiest Minds enables organizations to develop meaningful security frameworks that arrest security flaws ahead in time, and generate insightful dashboards and metrics for all stakeholders—from executives to directors, program managers, and developers. The result is a development process that supports business goals and long-term initiatives while avoiding security oversights and pitfalls. At the same time, the framework provides the enterprise with comprehensive data to assist in complying with regulatory standards.
Happiest Minds' advance threat management services follow industry standards such as OWASP, WASC, SANS, NIST. Our clients are able to leverage a hybrid model that integrates automatic scanning capabilities with manual testing. We proudly deliver the only end-to-end application threat management solution available in the market through our Application Security Operations Centers (ASOCs). The ASOCs cover security at different levels and are delivered via affordable pricing model options.
Why Happiest Minds?
Happiest Minds offers best-of-the-breed managed solutions to address multiple security needs, with flexible purchase options. Through our state-of-the-art center of excellence (COE) in Bangalore, India, and onsite and offsite delivery models, we offer tailored solutions to meet client requirements.
Our clients get a practical and powerful delivery roadmap, comprising a world-class delivery platform, framework, and standards. We possess the perfect mix of commercial and open-source tools and scripts. We use black box and grey box assessment methodologies, and follow a hybrid approach, maintaining a balance of tool-based and manual checks. We perform customized test cases focused on business logic. Our exhaustive checklist for test cases cover all possible attacks and vulnerabilities. We make use of the latest pentest enablement devices such as Hak5 – USB Rubber Ducky, LAN Turtle, and Tetra.
The ASOC packages encompass advanced threat management services across the software development lifecycle.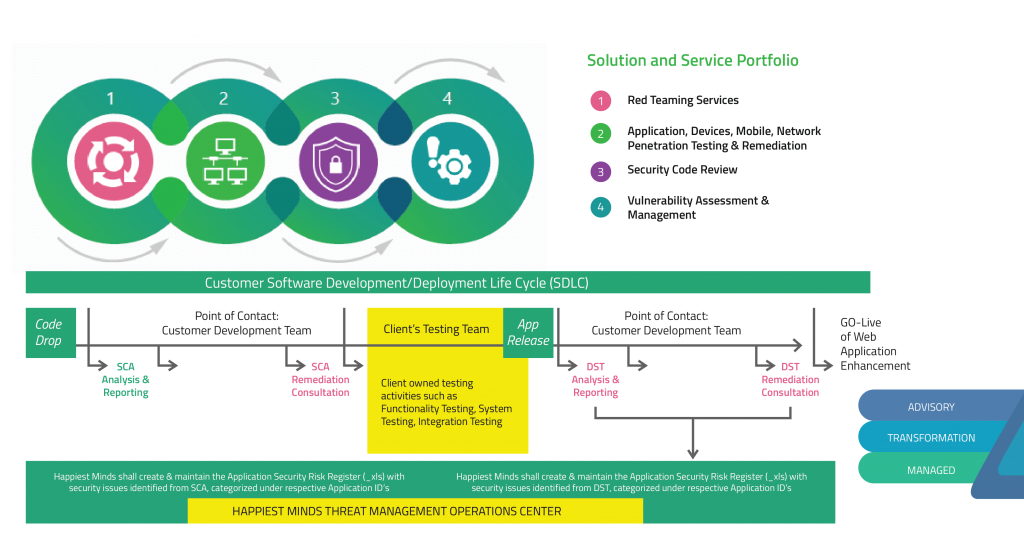 We leverage Threat Vigil 2.0, our cloud-based threat management solution for service delivery.
Offerings
Happiest Minds' ASOC Premium package is an all-inclusive, yet cost-effective package comprising advisory, implementation, and managed operation services in each of the following areas across various stages to help you achieve your application goals successfully.

DAST | MAST

End-to-end white box and black box web or mobile application and API pentesting
Zero false positives
Business logic testing

IAST

End-to-end white box and black box web or mobile application & API pentesting
Zero false positives
Business logic testing
Static application security testing (SAST) or secure software development lifecycle (SDLC) remediation

SAST

SAST
Secure software development lifecycle (SSDLC) consulting
Secure coding training

NIST

Infrastructure pentesting

The package ensures end-to-end white box and black box web or mobile application and API pentesting with zero false positives and business logic testing.

DAST: This application security assessment service offering covers web applications, web services and thick client applications, and is delivered in six phases:

Phase 1 – Application profiling

Phase 2 – Automated application security scanning

Phase 3 – Application vulnerability determination

Phase 4 – Application vulnerability exploitation

Phase 5 – Reporting

Phase 6 – Remediation consultation and reassessment

MAST: Mobile native application security vulnerabilities are identified with automated tools and scripts along with manual assessment to eliminate false positives and negatives. The service offering comprises six stages:

Phase 1 – Mobile application profiling

Phase 2 – Automated vulnerability scanning

Phase 3 – Mobile application vulnerability determination

Phase 4 – Mobile application vulnerability exploitation

Phase 5 – Reporting

Phase 6 – Remediation consultation and reassessment

This package involves static application security testing (SAST) or secure software development lifecycle (SDLC) remediation. It covers end-to-end white box and black box web or mobile application & API pentesting with zero false positives and business logic testing.

Is an "agent like" approach, which means agents and sensors are running & continually analyze the application workings during automated testing, manual testing, or a mix of the two.

The sensors will have access to and does the activity in phases manner:

Phase 1: The application code base

Phase 2: Data-flow and control-flow

Phase 3: Configuration data

Phase 4: Web layer

Phase 5: API's

This package covers static application security testing (SAST), secure software development lifecycle (SSDLC) consulting and secure coding training. Source code review security vulnerabilities are identified by scanning tools in an automated manner as well as through manual assessment. The package is delivered in five phases:

Phase 1 – Sharing of the code base either in Git or secure file transfer protocol (SFTP)

Phase 2 – Project and technology stack briefing

Phase 3 – Initiating code base scanning, manual assessment and sharing the true vulnerability report

Phase 4 – Reanalyzing to validate the mitigated vulnerability

Phase 5 – Mitigating and closing the vulnerability

Infrastructure pentesting is covered in this package. The security assessment of Internet-facing systems or internal network testing helps discover vulnerable network services that can be exploited by unknown threat sources. The assessment is performed in five phases:

Phase 1 – Profiling and discovery

Phase 2 – Infrastructure security assessment

Phase 3 – Infrastructure vulnerability exploitation

Phase 4 – Reporting

Phase 5 – Remediation consultation and reassessment
Resources
WHITE PAPERS

Case Studies

Brochures

Threat Vigil 2.0

ThreatVigil 2.0 delivers a scalable Cloud-based security assurance solution with a core…
Contact us