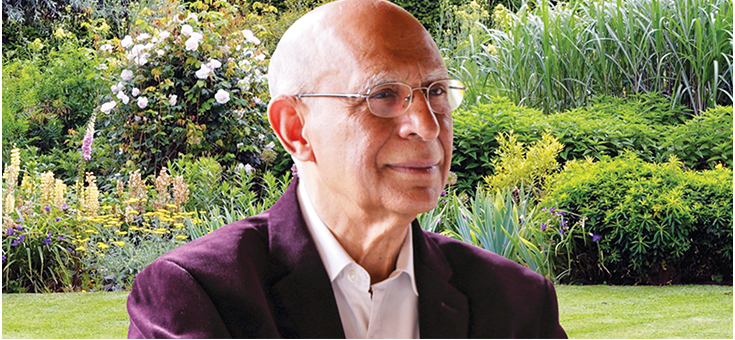 Chairman's Letter
On August 29, 2021, Happiest Minds will complete ten years from the date of launch.
On August 29, 2021, Happiest Minds will complete ten years from the date of launch. The theme of my letter is therefore looking back at the last decade and looking ahead to the next.However, before that, it is my painful duty to talk about the havoc being brought by the Coronavirus in our country. Most of the developed world has largely recovered and their economies are back to their pre-COVID levels. Sadly, in India we are reeling under the onslaught of the second wave which has found us ill-prepared. The virus continues to mutate, and we must keep adapting. In the first wave, fatalities were largely among the elderly. In the current wave, young adults in the prime of their careers have lost their lives. We, at Happiest Minds have not been spared. During the fortnight preceding the date of this letter, we lost 5 of our fine young men with promising careers and 38 family members. The pervasiveness and infectiousness of the virus in the current wave can be gauged by the fact that 8% of our team tested positive as on 17th May, of whom 26% had to be hospitalized. We are hoping that no effort will be spared to increase the pace of vaccinations to stem any further resurgence of infections or a possible 3rd wave. When the pace of vaccinations should have been increasing exponentially, the vaccination rate has been declining every day, due to an extreme shortage of vaccines.
Our lives have been dedicated to achieving the Happiest Minds Mission: 'Happiest People . Happiest Customers'.We are grateful to our customers who have supported us from inception.
The low coverage of population vaccinated makes India more vulnerable to a potential third wave which, by the looks of it, will increasingly attack young children. The scary situation further increases the need for vaccine availability. The Central Government will now procure vaccines and make them available to the States. Still, it is going to be months before volumes ramp up, backlogs cleared and younger population below 18 years can get a chance to be vaccinated. We can only pray India doesn't have to face a third wave in the next six months, as that is the minimum period needed to prepare for a new onslaught on the nation's health.

Looking back at the first decade
The highlight for Happiest Minds' first decade was our successful IPO, the first to be filed and completed during the lockdown and completely digitally executed. The record response by the shareholders in terms of oversubscription and appreciation of the share price on listing day placed a huge burden of responsibility on the leadership team and we are happy that we have been able to fulfill all our promises.However, the IPO was only the culmination of all that we have done since inception. This includes the investment from year one to build the organization we aspired to become.
The vibrant culture based on our SMILES Values, (Sharing, Mindful, Integrity, Learning, Excellence and Social responsibility) which won us industry leading ratings from Glassdoor® and innumerable recognitions from Great Place to Work® Institute (India). It was gratifying that in the last year we broke our own record levels, getting 4.3/5.0 in Glassdoor and 92% of our team said Happiest Minds is a great place to work.Our lives have been dedicated to achieving the Happiest Minds Mission: Happiest People . Happiest Customers. We are grateful to our customers who have supported us from inception. Some of our customers have been with us from the first year and in one case a CTO who was also our very first customer, has been our customer four times over, showing his faith in our delivery and leadership team. The evidence of our dedication and customer response comes through in the NPS score from our customer satisfaction surveys. This year our customers gave us a record NPS score of 57.
Thought leadership is very important in the knowledge industry and we have focused on this from the very beginning. We proactively invested in new technologies which in turn matured into Centers of Excellence – Analytics (Big Data & AI), Internet of Things (IoT), Digital Process Automation (DPA). As disruptions happened in traditional technologies, we also developed skills like Software Defined Networking (SDN), DevOps etc. Along with these areas, we continue to invest in next-generation digital technologies like Blockchain, Robotics & Drones and Virtual/Augmented Reality. Many leading Industry analysts like Gartner®, Zinnov®, Forrester®, Everest®, IDC®, ISG®, HfS®, Avasant® and our technology partners recognized our innovation in these areas – few examples are:
Recognized by Intel's Winner Circle Program as a Solution Plus Partner for contributing towards the acceleration of 5G and virtual network transformation
Leading Product Engineering & Digital Transformation Analyst organization ranked and recognized us in multiple areas like ER&D Services, Product Engineering Internet of Things Engineering & Services, RPA etc.
Leading global technology research and advisory firm recognized Happiest Minds case studies among top 25 Best Examples of Digital Transformation over multiple years
The gratifying output of these investments is that our IP-led services have been around 10% of the overall Company revenue.Social responsibility and the desire to give back has been our commitment from the beginning. While we have contributed to multiple programs, the centerpiece for us has been contributing to the mid-day meal program through Akshaya Patra Foundation. We call our landmarks as Smilestones and we contribute meals in the names of our customers and teammates. We set ourselves a goal of 2 million meals by the time of our IPO and were happy to achieve this. During the current year, we have diverted our entire CSR budget to COVID and related relief measures. As schools have been closed, a fair percent of the amount has gone into food packs of rations, each of which is enough for a family of four to survive for a month. We have also contributed to Sri Jayadeva Institute of Cardiovascular Sciences and Research to help set up a molecular lab and ICU beds at the Bengaluru facility.
From the very beginning, we organized ourselves into three business units (BU): Product Engineering Services (PES), Digital Business Services (DBS) and Infrastructure Management & Security Services (IMSS). This structure has not changed over the last decade. However, during the last year, we made a subtle and important change. Different verticals were assigned to PES and DBS respectively. Care was taken to ensure that the BU's had access to similar market size, and each had a few high growths, high potential industries. Consequently, both PES and DBS now offer end-toend solutions in their respective verticals. IMSS continues to be a horizontal business cutting across all industries. Sometimes it is a door opener for the other two BU's and often the recipient of downstream business after solution implementation by either PES or DBS. For most of the first seven years of Happiest Minds, our PES business has been the bedrock of Happiest Minds' performance. During the last three years both DBS and IMSS have improved their performance substantially.
We set ourselves a goal of 2 million meals by the time of our IPO and were happy to achieve this.
Three engines of growth and profitability led to our outstanding financial results for FY21, where our EBITDA and profit margins were comparable with the largest players in the industry and in some cases, even better. Of course, all this would not have been possible without the contribution of our three Centers of Excellence, our field sales organizations, our Delivery organizations and every support function and person within Happiest Minds.
Looking ahead to our second decade
During the first ten years, we set our goals through two five-year cycles of our Vision statements. These were socialized with our teams before announcement. They included soft and hard goals, but each had well-defined measurement criteria. Frequent reviews in All Happiest Minds Meets (AHMM) ensured the Vision was always a truly shared VISION with everyone aligned and committed to the same. This time we felt that with so much change in the world, we should look ahead for a longer period. Even as we speak, we are socializing the VISION for 2021-2031 with our teams. We have already received valuable inputs, including from our Board of Directors. The new independent members on the Board (Anita Ramachandran, Shubha Rao Mayya and Rajendra Kumar Srivastava) have tremendous experience, which gives them foresight. Their contributions also gave us additional insights and I must express my gratitude to them. We plan to announce the Happiest Minds Vision for the next decade before our anniversary date of August 29. In the next year's letter, I hope to share some of the highlights and features of the 2021 – 2031 VISION with you.
The Happiest Minds of 2031 will be very, very different from the Company of 2021 and we expect that articulating the Vision will help us prepare for the change, which will surely arrive.
The US Supreme Court in 1819 declared that "a Corporation is an immortal being". Unfortunately, most organizations survive less than half the lifetime of an average human being and the period of longevity for corporations is becoming shorter and shorter. This is partly due to faster changes in the business environment, industries becoming obsolete due to new technologies etc. However, a key component is also an appropriate succession planning approach. I have always had in place a plan for my succession in the event of an exigency to me, in every company I have led. During the IPO process, we exposed the contours of the succession plan to our potential investors. The fulcrum of our succession planning is our Executive Board ('EB'), comprising our three BU Heads and the CFO. EB members work individually and collectively as the CEO of the Company. Our EB was created in December 2017. The improvement in our financial results from that date has been dramatic and contributed significantly to our successful IPO. Equally important, the EB has provided us organizational continuity and stability. Collaboration has improved and also the quality of decision-making. Very few issues come to me for resolution and this contributes to organizational agility. Concurrent with our IPO, we have added two new roles, Joseph Anantharaju as Executive Vice Chairman, and Venkatraman Narayanan as Managing Director & CFO. Both continue to be on the EB. In their new roles, one of their key responsibilities is to lead our M&A initiative. This will have to be an important part of our future plans as Happiest Minds seeks to become a much larger company. Creating a company "designed for perpetuity" will require much more than just this, including ownership structure. This framework will also be part of our Vision 2021-2031. All I can say at this point is that there will be enormous change. The Happiest Minds of 2031 will be very, very different from the Company of 2021 and we expect that articulating the Vision will help us prepare for the change, which will surely arrive.Before I end, I need to bring myself back to the present moment. As an industry, we are fortunate that business has been able to continue on a work-from-home basis without interruptions to project delivery for our customers. Since our major markets of US and Europe have recovered, demand is strong, and we look forward to achieving our goal of 20% organic growth. We expect to sustain profitability, though Profits After Taxes will bear the impact of higher taxes on account of us becoming a full-tax paying Company having exhausted all benefits of tax deductible 'brought forward business losses' from earlier years.In conclusion, I would like to conclude by expressing my gratitude to our customers and partners for their steady support and to our outstanding team whose tireless efforts have brought us thus far. Also, many thanks to our Board of Directors and other stakeholders. Ashok Soota Executive Chairman