The future of automotive industry is transforming with the innovations in the computational and sensory technologies. The fusion of both have yielded new opportunities in the industry, leveraging with a safer, easier and a more pleasurable driving experience. Technology-driven personal ride-booking and car-sharing services are changing the competitive environment for ground transportation businesses at airports worldwide. Personal ride-booking and car-sharing services allow customers to arrange transportation quickly and easily using a smartphone application.
Car Sharing is at the inflection point of emerging class of mobility services that draw on modern technology to enable access to car-based mobility without the consumer owning the physical asset (a car). This would call for a traditional phase shift to new value propositions, new business models, and new organizational structure with cutting-edge, innovative ways of interacting with the public sector.
What is Car Sharing?
Car sharing is a service that provides members with access to a fleet of vehicles on an hourly basis. Members can reserve a car online or by phone, walk to the nearest parking space, open the doors with an electronic key card, and drive off. They are billed at the end of the month for time and/or mileage. Car Sharing is treated as a mobility service with the following characteristics:
User must undergo a pre-qualification verification process of identity and driving record once, and post that, he could access the service's cars in future without interacting with a member of staff each and every time. Key-less access is typically, though not all car sharing services, have the in-vehicle telematics that this requires.
The car/vehicle is typically driven by the end user as in traditional car hire (i.e. not a paid chauffeur, as in a taxi).
Usage is billed in time increments of minutes or hours, and sometimes also on the basis of distance travelled.
Carsharing Market, Number of Members and Vehicles, 2006-2014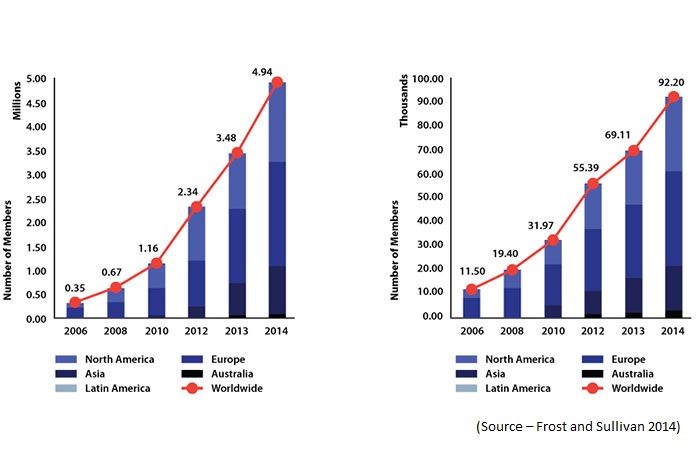 Use Case Description for Car Sharing Service
The brief procedure of this service is:
1) Joining the membership, 2) Unlocking the car door, 3) Driving away, 4) Parking to any reserved spot provided by the service provider and/or public, and 5) Paying as you drive (including gas, insurance, and etc..)
| | |
| --- | --- |
| Actors | Role |
| Role | Sensor Devices can vary based on its usage and do not have any direct communication interfaces to the M2M Service Platform. For Car Sharing Service – Door Control Sensor, Tire Pressure Sensor, Fuel Indication Sensor, GPS |
| Smartphone | A device which is an intermediate entity and is available to connect from sensors to a M2M Service Platform. The basic role is similar to that of the general M2M gateway. However, it has some sensors and some applications (navigation) itself used by services |
| M2M Service Platform | In charge of providing common functionalities for the M2M services. It is mainly in charge of collecting the status and configuration information of sensors and controlling them via the smartphone and/or M2M gateway |
| M2M Service Providers | Companies which provide its own M2M services for the user through the M2M Service Platform. The M2M Service Providers can vary according to the types of services. The providers include Car Sharing Service Provider, Insurance Company, Gas Station, Bicycle Sharing Service Provider, and Healthcare Service Provider |
Typical Call Flow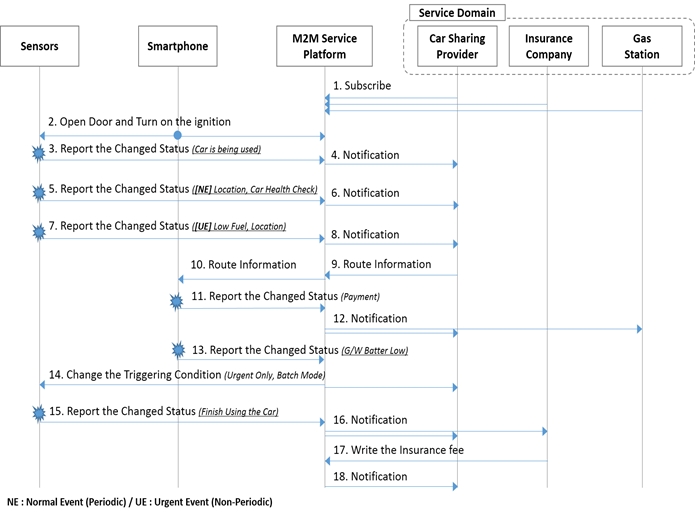 We at Happiest Minds firmly believe that as we go forward, we should leverage technology to envisage a big change and make a difference in how people live, work and innovate. Let's go invent tomorrow, instead of worrying about tomorrow as "Once technology rolls over you, and you are not part of the steamroller, you become part of the road.