Emerging technologies and uncertain times have brought a powerful paradigm shift to the banking and financial services industry. FinTech companies have introduced new ways of banking with the extensive use of technology, making banks to adhere to the modern way of banking with an omnichannel approach. The advent of globalization and a constant battle in a highly competitive market has compelled the banks, non-banking lenders, FinTechs, and Credit Unions to reconsider their business profiles and adapt to the evolving customers' needs provisioned by our Financial Digital Services.
Today, banking-as-a-service (BaaS) is gaining ground, enabling specialized propositions through the integration of non-banking businesses with a strongly regulated banking technology solutions. Financial institutions must think beyond just an automated Financial service and focus on customer experience. Providing an advanced service with improved, secure, and cost-effective Financial operations create a significant impact on customer experience.
The capital markets industry too is no stranger to the rapid advent of digitization. This data intensive industry, with its complex processes is also subject to stringent regulatory scrutiny. It is therefore even more pertinent for the players in this industry to embrace digital transformation initiatives to leverage economies of scope and scale in driving operational efficiencies.
Happiest Mind's banking and financial IT services use disruptive technologies of AI, IoT, App Modernization, CRM, Analytics and Cloud to help financial institutions adopt modern banking software and solutions to achieve their goals.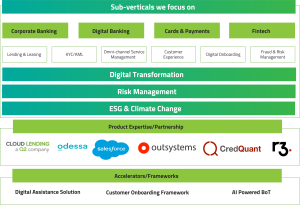 Disclaimer: All logos are the property of their respective owners