Happiest Minds wins multiple recognitions in Zinnov Zones for ER&D Services 2021 for Enterprise Software, ER&D, IoT and AI

Happiest Minds is recognized as a leader in the Enterprise Software Segment as part of the annual Zinnov Zones for ER&D Services – 2021 ratings. And placed as a leader in Engineering, Research & Development among Small and Medium-Sized Service Providers.
The annual study by Zinnov, a leading global management consulting and strategy advisory firm, assessed more than 50 Global ER&D Service Providers for their product engineering capabilities across various industry verticals and micro-verticals.
During the last decade, Happiest Minds has become the trusted engineering and digital transformation partner for some of the largest global enterprises across several industries. Powered by its mission statement of "Happiest People, Happiest Customers," it counts more than 53 Fortune 2000, Forbes 200, and Billion-Dollar corporations as its customers. At the other end of the spectrum, Happiest Minds has also built technology platforms from inception for new-age start-ups and played a crucial role in their journey towards attaining the much-coveted unicorn status. 
With its focus on next-gen technologies, Happiest Minds has actively built capabilities in IoT and AI, resulting in industry-leading digital transformation projects that helped its clients achieve a sustainable business advantage. As a result, Happiest Minds has also been recognized as an "Established-Niche" provider in both IoT and AI Engineering Services by Zinnov.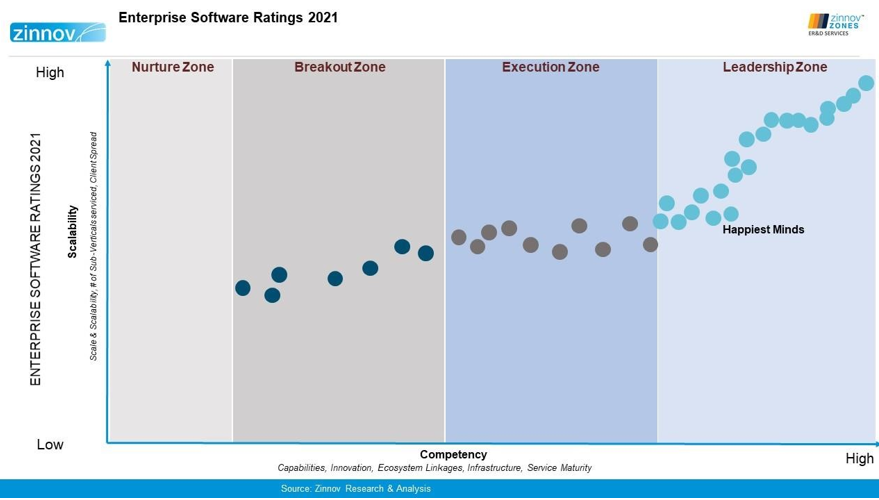 Disclaimer: All logos are the property of their respective owners