Happiest Minds' work for DoubleVerify has been recognized by ISG as a Standout in the 2022 Digital Case Study Awards.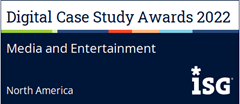 Happiest Minds is one of only 5 winners under the Media & Entertainment category in the ISG Digital Case Study Awards. Selection of the winners is based on multiple criteria including the tangible impact of digital transformation on the client's business, uniqueness of the provider's solution and resultant revenue growth.
DoubleVerify has been a client of Happiest Minds since 2018 and provides solutions to brands, agencies, and publishers that increase trust in metrics related to digital advertising. DoubleVerify was looking to expand their offerings to connected TVs and OTT platforms, a space typically characterized by innumerable ad rendering scenarios which makes the quality assurance of reporting metrics supremely important. Happiest Minds carried out an assessment using its Test Maturity Assessment (TMA) framework and laid out the roadmap for the quality engineering organization, modernized the tech stack and helped DoubleVerify in obtaining the accreditation from the Media Rating Council. The winning case study can be downloaded by clicking this link. 
Disclaimer: All logos are the property of their respective owners