One Stop Shop for All Digital Content Brokering
Enabling real time, relevant digital asset delivery and discovery on the device, and channel of choice is imperative for creating differentiation in the digital business world. Intelligent solutions that can streamline, optimize, and manage digital experiences through content are the need of the hour. Effective enterprise content management and monetization that provides agility, dynamism, and consolidation is becoming the foundation of not only contextualized customer experiences, but also the overall enterprise digital transformation.
Happiest Minds managed Content as a Service (mCaaSTM) is a pluggable, cloud powered Digital Content Broker Solution that seamlessly integrates with transactional systems and leverages any form of standard storage and middleware. This solution empowers organizations to derive relevant information from enterprise content and digital assets in the most efficient manner by ingesting content into an AI powered engine. The platform with cognitive and AI powered chatbot features uses deep learning mechanism to learn customer behaviour and become more intelligent on the go. Natural Language Processing (NLP) and fuzzy driven intelligent search and predictive features of the mCaaSTM platform make it desirable for businesses to drive their brand- customer engagement to the next level.
mCaaSTM helps our clients to:
Digitize and enrich content in real time to enable effective monetization.
Create a single source of truth by connecting multiple data sources to enhance efficiency.
Transform a cost center to profit center by disrupting the traditional contact center processes.
Deliver contextual and most relevant information in near real time.
Offered both as a platform and a custom implementation, mCaaSTM allows organizations to manage digital assets throughout their lifecycle. By delivering a smart, seamless and connected content flow for the enterprise, this solution creates an enhanced digitals experience for end consumers, customers, employees and partners alike.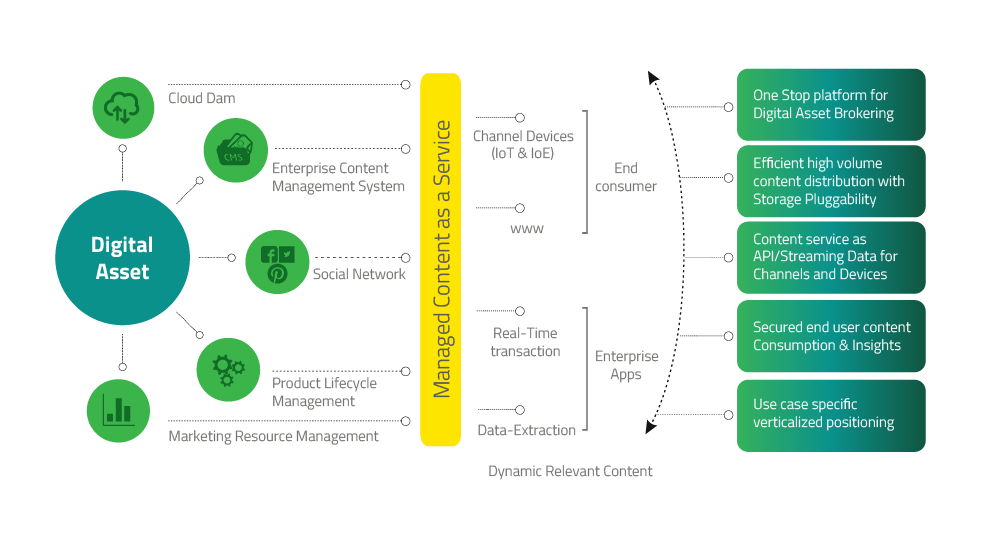 FEATURES AND BENEFITS
Truly Digital

Cognitive and Elastic Search, NLP boosted
Knowledge Orchestration, Enrichment and segmentation, on demand
Graph Intelligence
Personalized / Contextualized Knowledge Delivery
Interactive End User Knowledge Consumption

Low Cost Of Ownership

No HW/SW Investments or any Capex
SaaS Model, Minimal Upfront Cost
Consumption Based Model (Use and Pay) or Fixed Fees/month, still at the fraction of cost with respect to Brick-n-Mortar KM products
Change Management can be bundled in, providing insulation to Huge Change costs

Ease of Adoption

Knowledge Any time, Anywhere [truly Omni channel, omni-device]
Enterprise and Community Based Collaboration
Large Rich Text Content Sharing
Provide View to Graphical Data
Single Knowledge Dashboard, self learning
Supports both Push and Pull, Seamless On-boarding

Time to Market

Go-Live Within 4 Weeks
Rapid Capabilities Delivered
All Modules Under Single Platform And Release Management
Allows Plug-n-Play customization, in less than half the time taken by traditional KM Products

Support and Future extensions

Complimentary 24/7 Support (if needed)
New Features and Capability Roll Out Can Come Complimentary
Integration With K-System
Hadoop Based Distributed Processing Of Large Sets Of Data
Resources
WHITE PAPERS

Case Studies

Brochures
Contact us