The violence against women in India has grown to be a matter of grave concern, cutting across the boundaries of culture, class, education, ethnicity and age. Even in the 21st century, women cannot step out of their house assured of their physical safety.
Just after a year of the in-famous assault on women, the Cabinet Committee on Economic Affairs (CCEA) on the 2nd January 2014, approved Rs.1,405 crore which would be implemented on two levels:
National (National Vehicle Security and Tracking System)
State (City Command and Control Center).
It would have a coverage ratio of more than a million of the population and aims to aid women in distress with minimum response time. The Safety elements which would be incorporated are: tracking and geo-fencing of all public transport vehicles with visual and text signals denoting violations. Additionally, panic buttons will be installed on all public vehicles along with CCTV on vehicles with large seating capacity.
The CCTV footage will be authorized for use as evidence in the arrest of any individual accused of instigating an incident. The tracking, geo-fencing and panic buttons all require telematics products, making this government project a catalyst for growth of the telematics industry. The project will help in mapping routes of public vehicles, tracking vehicles on routes, highlighting violations through visual and text signals, and a panic button to alert police.
Working Model Description
The mesh network of the Public Conveyance or the Para Transit modes like auto rickshaws, shuttle bus, private taxis or mass transit modes like local trains, metros and buses can be equipped with Panic buttons which in-turns communicate to an Intelligent Transport M2M Platform, and is equipped with GPS for location information and GPRS/CDMA communication technology for sending the location updates to the Intelligent Transport M2M Platform. Voice service facility could be offered on top of the entire solution, as and when required.
The PCR VAN should also be connected to an Intelligent Transportation M2M Platform which can display the incident location with shortest path to reach the location. Depending on the bandwidth consideration and Infrastructure constraints, emergency voice services could be also used to interact with the victim.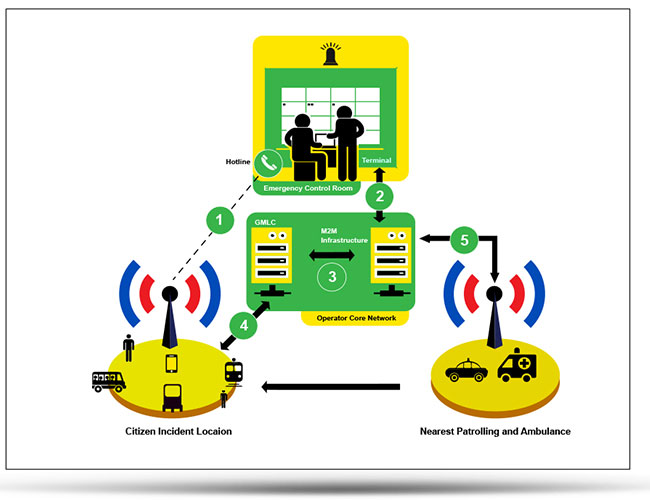 Typical Call Flow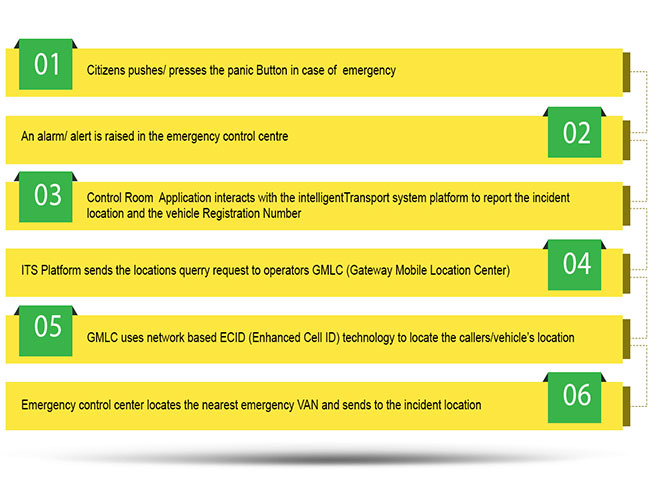 The first duty and highest obligation of any government in the world is public safety and security, leaving little or no room for error.
M2M technology is a great way that can help us envisage a connected world where there are connected devices riding over secure end-to-end solutions. M2M is capable of making safety and health professionals access and analyze data in real time and respond accordingly to keep people as safe as possible.M2M technology will enable police emergency VAN to respond to Citizens panic calls efficiently and reduce the time to react. The framework can enable officials to manage and monitor the incident remotely.
We at Happiest Minds firmly believe that, as we go forward we should leverage technology to envisage a big change and make a difference in how people live, work and innovate. Let's go invent tomorrow, instead of worrying about tomorrow as "Once technology rolls over you, and you are not part of the steamroller, you become part of the road".