Energy efficient, connected devices, smart and secure products, sustainable environments, Internet of Everything, Machine2Machine, technology disruption are words that are becoming commonplace today. But how smart are we really getting? And how far can we extend this smartness to?
A designer named Daan Roosegaarde nails it well with the term "SMART HIGHWAY ". He presents an analogy that makes perfect sense in the world today – "Ever thought of a highway with literally no road lights to be safe? Or road lights that only lit when you are passing? What about an interactive highway that will talk to you about the pot-holes ahead, weather conditions, road conditions?" Or a one that will charge your vehicle while driving? The idea of a more intelligent way of transportation is not new. But the effort has primarily been focused on vehicle development. Roosegaarde also says, "When we look at highways, why is so much money and time and energy spent on cars? Where the roads themselves are still stuck in the middle ages." This gives birth to an innovative and a beautiful concept for future highways.
A bright side of this concept works in the benefit of urban municipalities. Under forever constrained budgets, determining which roads need fixing is a critical issue. Additionally, informing drivers of hazardous road conditions especially at night or when lighting is poor proves to be a useful feature for navigation systems.
As stated by Ravi Naidoo "A Smart Highway is not a completely new road, but rather a kit of parts that can be applied to existing roads as needed. It's not an esoteric thing, it's a pervasive thing." This is not rocket science, but achievable through embedded sensors. Wireless Sensor Networks are a cost-effective and scalable option for reducing infrastructure maintenance costs and increasing safety on the road. We can install wireless sensors in vehicles, mainly taxis and buses since these vehicles remain on the roads for longer and daily cover large areas of road network. These vehicles can provide a lot of suitable information on the status of roads in the city, which municipalities can use to determine roads that are in seriously bad conditions and need immediate repair or rebuilding.
Use Case for the Road Condition Monitoring
Scenario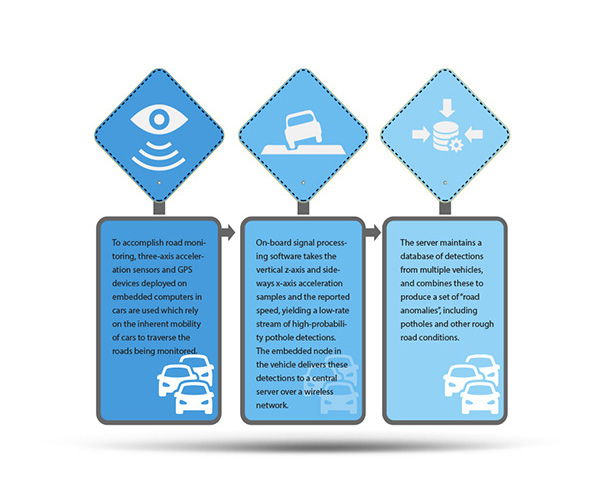 Architecture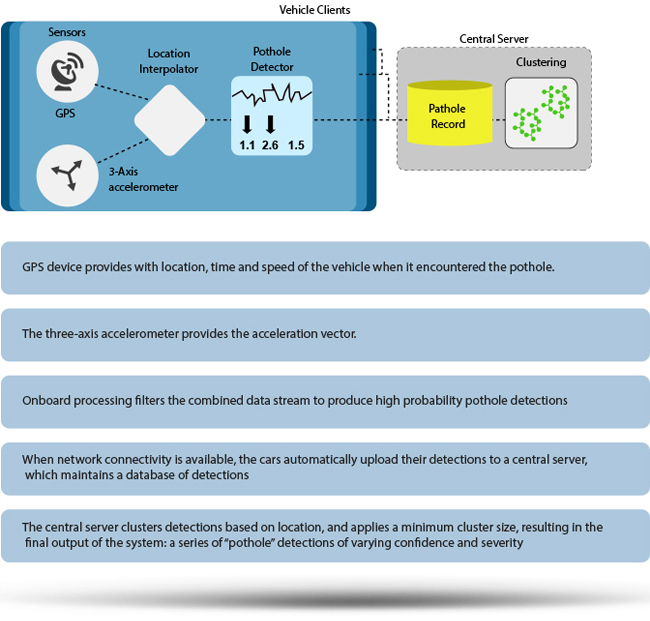 Solution Landscape
We at Happiest Minds firmly believe that, as we go forward we should leverage technology to envisage a big change and make a difference in how people live, work and innovate. Let's go invent tomorrow, instead of worrying about tomorrow as "once technology rolls over you, and you are not part of the steamroller, you become part of the road".