B. K. Yoon, Samsung's co-CEO took to the stage at CES 2015 to declare that all Samsung's products will be Internet-of-Things (IoT) enabled within five years. That being said, what is more interesting is that he said that 90% of Samsung products would be able to connect to the web by 2017.
This is by far one of the best examples that seems fictious right now but might be a very common use case in the next 3 to 5 years' time.
The example use case I would like to discuss the IoT is with is the 'working parents', on how if they wanted to, they could remotely turn on their child's favourite cartoon channel by the time he/she comes back home from school, by sitting miles away from home
Let's begin looking at the components or devices involved and how they communicate with each other to make this a reality.
We need IoT devices with sensors: Smart TVs, Smart Locks, Proximity sensors, cameras, IoT gateways and Internet connections at home.
As Samsung manufactures few millions of such devices worldwide, it is important to have a unique identity for all of them. Considering the case in point, Samsung uses IPV6 for this purpose of unique identification of these devices.
The Smart lock, for example, captures the photo of the person opening the door and then passes the information to IoT gateway using one of the IoT communication protocols like ZigBee, BLE etc.. The IoT gateway then updates its platform with this information using the WiFi and HTTP over the REST. Alternatively, some analysis like the day of the week, time of the day etc are done, after which, IoT platform either sends this as an alert to the child's parents' mobiles or turns on the pre-scheduled TV channel by itself.
In Summary, the sensors that are attached to the devices can identify the data and send the same to an IoT platform, or its brain in other words, via the IoT communication protocols, which can do analysis and take actions by actuators. Internet of Things is an Eco system which can make the devices around identify, think and react to their senses at disposal, or basically– make them more alive!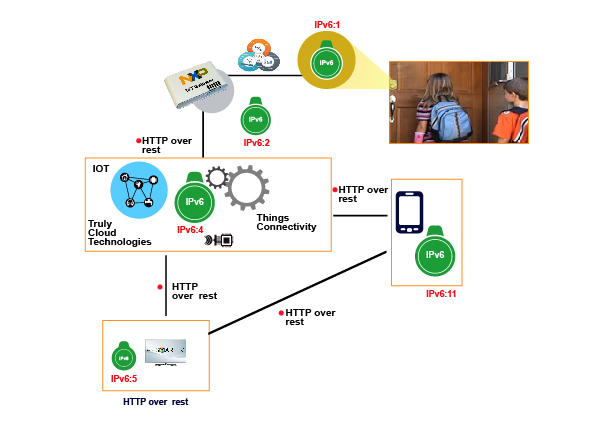 Reference:
http://www.androidauthority.com/samsung-says-products-will-iot-enabled-within-5-years-578576/
IoT protocols: