The first duty and highest obligation of any government in the world is public safety and security, leaving little or no room for error. M2M technology is a great way that can help us envisage a connected world where there are connected devices riding over secure end-to-end solutions. M2M is capable of making safety and health professionals access and analyze data in real time and respond accordingly to keep people as safe as possible.
M2M technology will enable police emergency VAN to respond to Citizens panic calls efficiently and reduce the time to react. The framework can enable officials to manage and monitor the incident remotely.
System Block Diagram: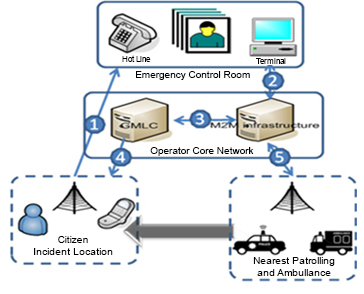 Typical Call Flow
Citizen calls emergency 101 (Emergency Control Room) from incident location
Control room Application interacts with ITS (Intelligent Transport System) platform to report the incident with Mobile number of the caller
ITS platform sends the location query request to operators GMLC(Gateway Mobile Location Center)
GMLC uses network based ECID (Enhanced cell ID) technology to locate the callers Location
Identify the closest Fire Brigade and Ambulance to the Incident Location
Send to the incident location
In current Indian scenario most citizens use low end or feature phone which do not have GPS (Global Positioning System). For location identification the use case needs to depend on network based location identification system. M2M infrastructure is also currently not used by the emergency control rooms. Most of PCR (Police Control Rooms) vans, ambulances and fire brigades are not embedded with electronics and would require an external device to be connected.
We at Happiest Minds firmly believe that, as we go forward we should leverage technology to envisage a big change and make a difference in how people live, work and innovate. In India, there is a lot of room for this transformation to happen. Let's go invent tomorrow, instead of worrying about tomorrow.