Security has always remained a major concern for organisations across verticals. Organizations worldwide have ranked IT security as one of their priorities as increasingly sophisticated attacks, new data protection regulations, and most recently insider fraud and data breaches, threaten to disrupt and irreparably damage their businesses.Small or large, no matter of the size of the organisations, security has always been an important factor for them.
In today's world, the organisations reside on data and to protect that they have to have advanced network security solutions. Other than data, various factors like advanced cyber-attacks, disruptive technologies, growing mid-sized businesses etc have influenced the market to witness a double digit growth.
According to Gartner, the security market in India is expected to touch USD 1.69 billion by 2019 with network security equipment and services contributing to USD 1.01 billion over the same period.
Growth drivers of Network Security Market
The nature of Network Security is evolving with the advancement of the cyber threats in the country. Another important factor of this growth is adoption of new technologies.
With changing landscape of cyber threats and growing adoption of disruptive technologies like mobility, virtualization and cloud is pushing security vendors to expand their network security solutions capabilities and merging.of technologies, for example, virtualized firewalls; hardened OS for security appliance, and running firewalls with hypervisor. The New IP is a modern approach to networking that emphasizes open, automated, software-defined elements to increase agility and reduce costs while meeting the challenges of the Third Platform. And the great news is that the New IP provides a new way to architect networks that accelerate business changes and growth while maintaining or increasing high levels of security,"said George Chacko, Principal Systems Engineer and Lead Technical Consultant, Brocade India.
In India, the network security sphere has evolved a great deal, eventually leading UTM (Uni-fied Threat Management) to dominate the scenario. With cloud emerging as a big boon for businesses, cloud security can be observed as a driving trend in the information security zone. The two most noticeable trends in the network security market space for SME segment in India are the increase in the number of vendors that are proposing products in this segment and the rising number of applications that are being added to UTM security appliances.The market is also noticing the participation of local players offering products at par with global companies in terms of standard and quality. So, vendors are specially innovating to be able to cater to SMBs and tap on the huge demand in the SMB sector for network security and are constantly evolving with rigorous research and development on better offerings for the SMB sector Also the security industry is more than ever, moving to a service model where vendors make sure the quality and accomplishment of their end-user. The demand and growth rate in India is higher than anywhere else; because of its size and IT enablement is occurring rapidly. Also, India tops the list for cybercrime and risks. And therefore, with greater connectivity, this ought to raise demand for a way out," replied Aravindan Anandan, Consulting Systems Engineer, Asia Pacific, Barracuda Networks.
Challenges
Businesses across verticals are moving beyond traditional boundaries and are embracing latest technologies. Moreover, increasing number of cyber-attacks and its complexities are forcing the companies to change their approach towards security.
Both vendors and channel leaders require a comprehensive approach and deeper understanding of changing dynamics in network security. Firstly, with regard to infrastructure, we clearly observe how businesses across verticals are adopting radical changes in IT infrastructure – tearing down the old perimeter and redefining traditional boundaries with collaboration, mobility, virtualization and the adoption of cloud-based services. Given this situation, security has to change to address shifting concerns. Secondly, following the consistent increase in the complexity and volume of targeted attacks, the necessity of companies to address regulatory or compliance-related issues continue to transform the approach toward security as new requirements emerge due to social, mobile, cloud, and any-where access to mission-critical information," commented Sunil Sharma, VP Sales, Sophos, India & SAARC.
Another major challenge that the security vendors face is lack of knowledge and training among the organisations. Knowledge and training is highly required across organisations.
Despite of what we are doing and the other security vendors are doing we still see the big requirement of knowledge and training in the organisations. Another challenge is the develop innovations that they are doing will do some change in the infrastructure which require a change in the security. Third is the explosion of end point devices and mobile applications. So the number of devices which are connecting to the network are increasing at a tremendous rate and the number of applications running into it which is making the network more complicated," mentioned Amit Singh, Country Manager, Dell SonicWALL.
Disruptive technologies posing challenge
With huge penetration of mobile devices and at the same time increase in the usage of various forms of broadband connectivity has amplified the need of network security. Similarly technologies like new mobile OS, SaaS, BYOD are also throwing challenges into the organisations.
IoT is the latest technology in the market based on which many innovations are coming up. And the new technologies are vulnerable to threats which the cyber criminals take advantage off.
"IoT will become central to "land and expand" attacks. Hackers will take advantage of vulnerabilities in everything from smart home devices to wearables to compromise corporate-issued devices or corporate networks. As the attack surface for IoT grows dramatically, so do the opportunities to propagate malware among the devices, many of which may find their way onto corporate networks or connect to repositories of personal data.
As adoption of cloud and virtualization technologies continues to increase, we expect attackers to develop malware and seek out vulnerabilities that can further compromise host systems. Beyond attacks on virtualized systems, though, attacks on both public and private cloud-based systems are increasingly likely. The prevalence of mobile applications (again, both from public and corporate app stores) make mobile devices potential vectors for remote attacks on cloud-based applications and virtualized systems," saidJitendraGhughal, National Channel Manager, India & SAARC at Fortinet.
Trends in Network Security
Previously, the organisations use concentrate on perimeter network security but with advancement of threat scenario they have shifted to solution which provide a more vivid and detailed information about attacks. Another worth mentioning trend is the adoption of a single solution which provides complete security.
Earlier, organizations were more inclined towards perimeter network security i.e. protecting at end points which is old, reactive threat-oriented model. Now, the focus has shifted to more predictive and proactive approach with solutions available in market that provide complete visibility and control into security domain. They have adopted individual network security solutions to find out the source of a particular attack or even before it occur with its monitoring and analytics capabilities.
The latest trend set in market is one solution that provides complete security platform to identify security events proactively & mitigate security threats in real-time," commentsSridhar Iyengar, Vice President, ManageEngine.
Worst hit segments
Data is the most important aspect for a cyber-criminal and for that they do not differentiate between large or small businesses. So both large enterprises and small businesses are prone to cyber-attacks. But the major differentiator is the financial resources and skilled manpower. Smaller businesses or SMB face these challenges and remains vulnerable to threats.
Though SMBs are vulnerable to attacks they can now protect their organisations with the power of cloud-based security models.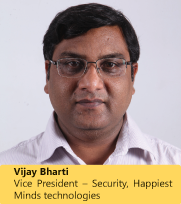 Amid a constantly evolving and sophisticated cyber security landscape, the SMB sector is most vulnerable to attacks. Most SMBs cannot afford multi-layered security and defense levels like large enterprises due to budget restraints. However, the advent of the cloud-based security model has provided an opportunity for SMBs to leverage advanced security capabilities at a fraction of the cost of an on-premise model. Against this background, there has been significant traction in the network security space as SMBs look to ramp up their efforts to improve their security posture," reiterated Vijay Bharti, Vice President- Security, Happiest Minds technologies.
Lastly…
Disruptive technologies will keep impacting the technology market at the same time it will benefit people. This will open gateways for the cyber criminals to intrude into the networks to get business secrets which in turn will give the network security vendors to come up with advanced security solutions. With new innovations and different factors the growth of network security market will continue to soar.
Published In: Var India