Retailers across the globe are battling intense competition from their competitors' every day. Enabling the right price, promotions and markdown decisions across all touch points while providing an Omnichannel shopping experience has now become clear competitive differentiators to gain advantage over today's instrumented and informed shoppers. To compete effectively, retailers need look for effective means to improve profitability and ensure customer experience and perception of price is not compromised in any manner. Product Pricing is one such key strategic lever at a retailer's disposal.
Keeping in mind that Pricing is one of the most crucial factors that influence a shopper's decision, Happiest Minds Technologies delivers one of the most powerful end-to-end cognitive solution PRIMER (PRIcing and MERchandising) that enables retailers of any size with an automated and data science driven approach to price review and price management across multiple channels of retailing. Primarily targeting the Pricing and Merchandising business users, this solution eliminates the need for manual reviews with an accuracy of >80% in arriving at price groups and price relationship rules.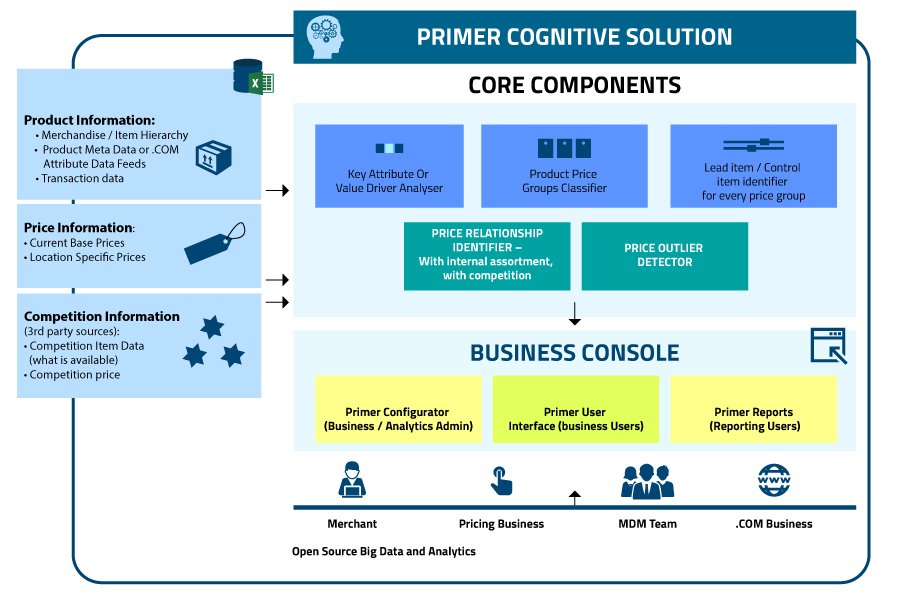 Solution Differentiator
Retailer's Business Specific Controls and Deep Domain parameters incorporated in analytical models. Business Rules and Product Attribute Rules are incorporated in the algorithmic model of the solution thus focusing on considering the key business perspectives before the product and price data is analyzed and reviewed.
Generalized product price linking model is developed in such a way that it can be embedded in day to day price review and maintenance process
Key value drivers or key product attributes identified save as a crucial input for multiple business teams – For e.g. .COM team can use this for improved Recommendation models when a particular item is out of stock, MDM team more focused on Data Quality initiatives rather than wasting efforts on the non-value driving attributes.
A business facing UI helps the pricing and Merchandising teams visualize the product price groups, relationships and pricing anomalies in an easy and intuitive interface
Customizable and scalable model built on open source APIs/ Libraries on big data platform that can incorporate custom business rules and be scaled to larger data sets
Completely built on Open Source technologies and applies a combination of Machine Learning, Business Rules, and Heuristic Search Techniques
The Business Need (WHY PRIMER?)
The 3Ps core to retail are Product, Price and Promotions. The Merchandising function and the Pricing of products are very strategic to a retailer's positioning in the market, and thus needs constant monitoring and adjustments to meet dynamic demands of the environment that retailers operate in – competitive factors, vendor cost escalations, external factors triggering demand-supply constraints, changing customer preferences, liquidation needs of current stock and so on. All this needs to be done keeping in mind that the bottom line is healthy and aligned with Retailer's business goals.
Some typical Price Consistency checks pricing analysts and merchandisers constantly monitor include –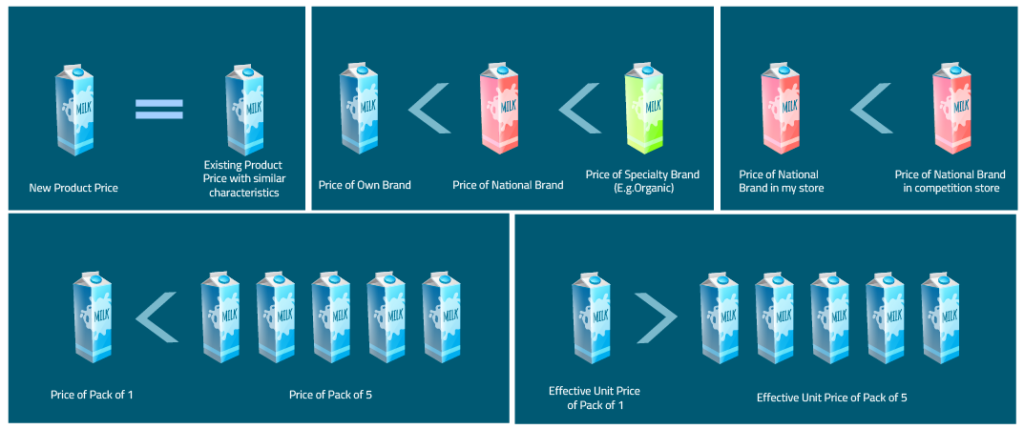 Similar such rules and relationships exist across thousands of SKUs and multi-fold variants for large retailers across hundreds of categories they carry. This makes the task monumental and tedious for pricing business team and there are no standard solutions that can carry out this price analysis and review in a comprehensive and scientific manner.
Key Challenges in current Pricing Process:
Ensuring integrity of Price across Product Variants and ensuring price changes are done right
Ensuring like/ similar items are priced similar and identifying discrepancies
Maintaining price parity/ progression within own product lines
Maintaining parity/ progression with competition
The above mentioned failures result in:
Incorrect Price Perception resulting in poor Customer Experience
Lost Margins and Cannibalization
Non-productive for Internal teams
Features & Benefits
Automated data science driven approach to Price Maintenance and Product Line reviews
Generalized algorithmic models that take data inputs to automatically decipher the key attributes or value drivers which influence price variation of items
Output engines that classify the items into Price groups based on key attributes and determine Price relationships
Automated mechanism to Identify existing price inconsistencies or pricing anomalies
Business UI Layer for configuration, price reviews, and validation for Pricing Users
Available in Managed Services Mode with regular refresh and algorithmic model updates over the period of contract

Significant reduction in manual effort for Pricing and Merchandising team's Price Maintenance and Review process
Automated mechanism to identify existing price inconsistencies thereby helping business address incorrect price perceptions
Price setup for new product introductions made easier through auto-suggested price classification
Helps in better handling of Price optimization, Price elasticity, and Price promotion models
Identify Data Quality issues for the Product MDM team
Enables .Com business to fine-tune product recommendation and related product models with better knowledge of similar priced items and price families
Resources
WHITE PAPERS

Brochures