The digital world has changed dramatically in last few years. Data Production is expected to be 44 times more by 2020 than it was in 2009. Although every business is a race to harness the power of the digital universe, with this speed and the variety of information it is difficult to count on the existing process and institutes for useful insights.
Our digital universe is spinning faster than ever before and there is no chance that it will slow down. Running rule-based engines to detect Security threats, predict device failure, predict fraud, highlighting discount glitches will not be able to give the required insights to the business.
Our Anomaly Detection Solution is a feedback based 'Domain Agnostic' solution which runs a variety of Algorithms to check data anomalies and also learns with time, based on the Algorithm's efficiency.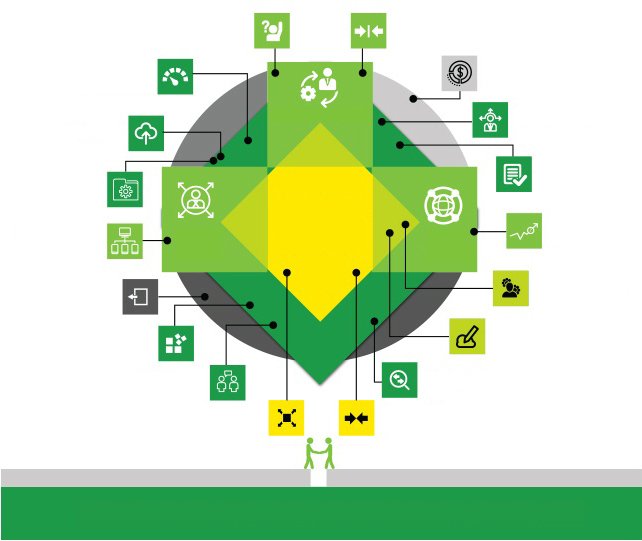 Requirement Understanding
Business
Constraints
Real time
V/S
Batch processing
Performance
Improvement
Deployment
Decision Making
Data Governance
Whitebox & Blackbox Testing
High Performance
Computing
Algorithm
Selections
Data Logistics
Feature Engineering
Data
Retraining New data
Creativity
Communication
Data Exploration
Build, Buy, Outsource
Gauge Political Friction
BUSINESS SKILLS
IT SKILLS
"Analytics
Leader?"
DATA SCIENCE
Automating the Iterative Process of Anomaly Detection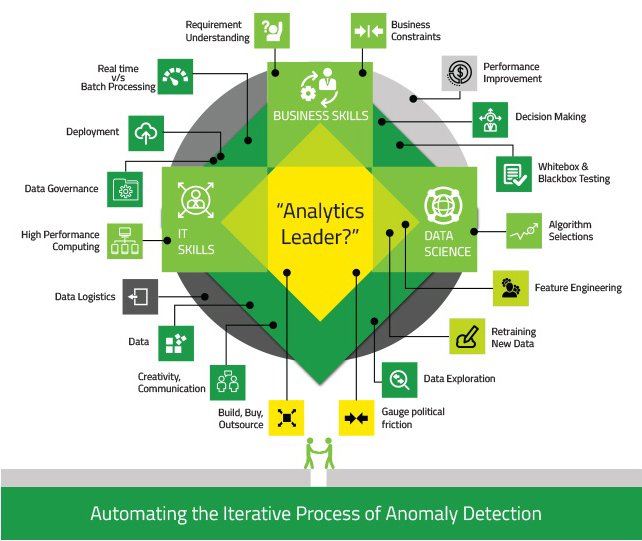 Why Anomaly Detection:
Anomaly Detection is the process of identifying non-complying patterns called outliers. This Domain Agnostic Anomaly detection solution uses statistical, supervised and Artificially Intelligent algorithms to automate the process of finding outliers. It is a Plug and Play solution, flexible enough to deal with variety of categorical and numerical data and that too on high velocity. Its feedback based engine makes it capable to learn with time and adapt to change in patterns over time.
As every domain has different data patterns and variations, the Anomaly Detection is a tedious task which demands rich Domain Knowledge, Data Science and Engineering expertise and various iterations to conclude on efficient Algorithms.
With this solution, we have automated the entire iterative process of customizing and finding efficient algorithms and have helped Businesses to quickly figure out outliers. It's as simple as pumping the domain data, configuring and running different algorithms and at the same time judging the efficiency of each algorithm for their Business advancement.
Features & Benefits
Domain Agnostic: Domain independent real time solution that can run on any variety of data set (Categorical/Numerical)
Multiple Algorithm: No 'one-size-fits-all' solution for outliers. Right blend of statistic based and Machine Learning Algorithms.
Feedback Based: Captures the feedback on correctness from the users. Trains accordingly perform effectively on new data sets.
3V's of Big Data: Embodies Velocity for running algorithms for large online streaming data, Volume for handling Big Data needs and Variety for supporting data from heterogeneous sources.
Simple UI: User friendly

Domain Agnostic- anyone can implement this irrespective of their domain. Solution is well suited for.

Security Intrusion Identification.
Price Glitches Identification on an e-commerce site.
Discount Malpractices by Sales team
Device Failure Prediction

The solution is self-evolving it continuously learns and adapts changing patterns with time
Automated Algorithm selection and ranking for a given domain
Plug and play solution
Cuts down the dependency on Data Scientist and Big Data Engineers and bridges the gap between all parties
Resources
WHITE PAPERS

Brochures

Blogs