In today's world of the digitally savvy consumer, providing unified and consistent digital experiences across every touchpoint is critical for delivering the ultimate customer experience. Consumer behavior is influenced by customer centricity; Brand loyalty and customer retention is a direct outcome of customer experience across social interactions, the actual sales process, in-store experience, customer care and the relevance of the product or service offered.
Pimcore is a 100% open source and fully customizable Digital Experience platform with no licensing or subscription costs and a comprehensive suite of products spanning Product Information Management, Master Data Management, Digital Asset Management, UI/ UX, Content Management and eCommerce. Pimcore solves typical challenges of digital transformation including consistent cross-channel user experiences, interoperability, data consolidation, personalization and marketing automation through a single, consumer-friendly platform. The platform has been listed as a "Cool Vendor" by Gartner in the Digital Commerce space and as one of the "Top 10 PIM vendors" by Forrester.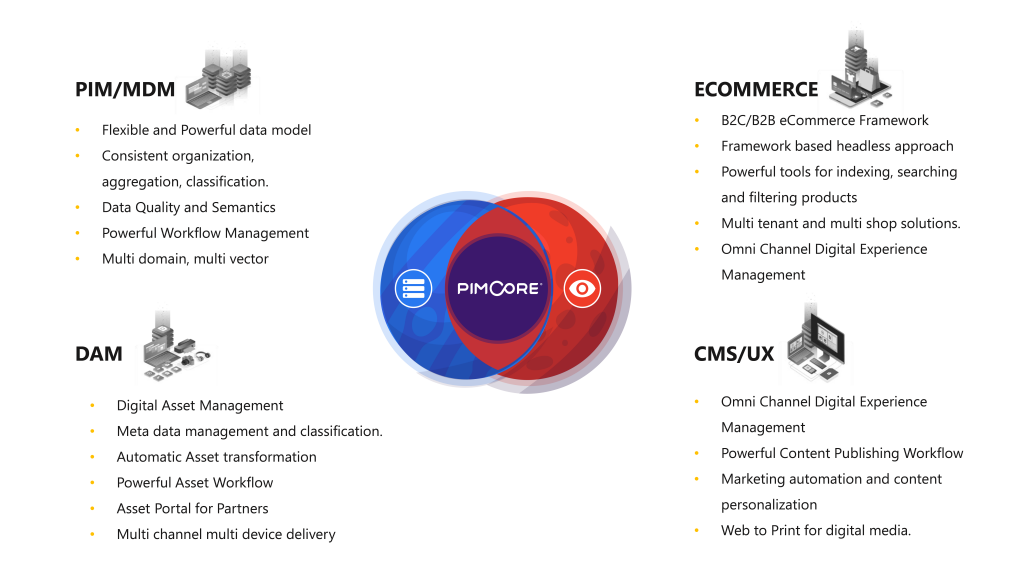 Why Happiest Minds for Pimcore?
A recognized leader in Digital Transformation, Happiest Minds is a Pimcore Gold Partner and has been helping global customers leverage digital technologies for driving revenue growth and improving business efficiency. With 100+ consultants dedicated to strategy, design, development and implementation of Pimcore's DXP, we bring to the table deep vertical expertise, Digital Experience excellence and a proven track record of delivering high value digital outcomes to customers across verticals
Digital Experience Drivers and the Pimcore Value Proposition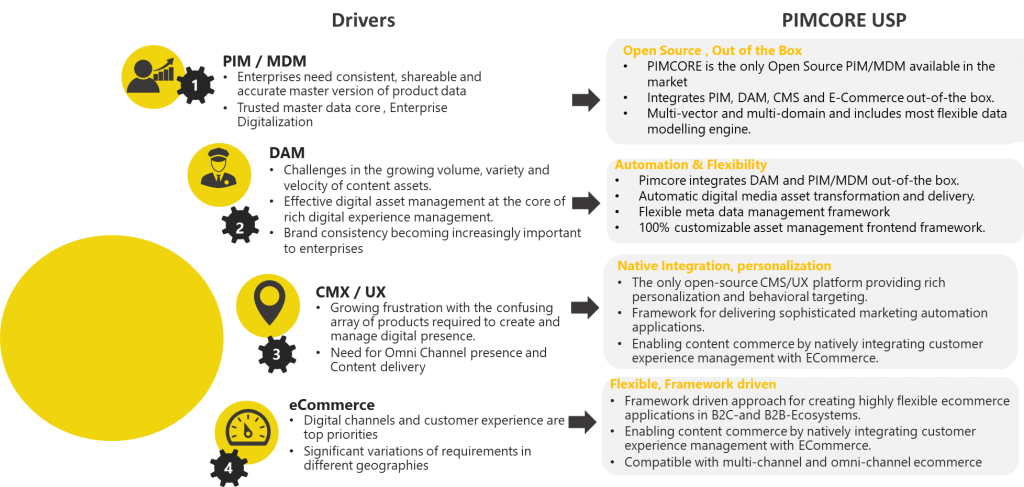 Happiest Minds as your trusted Partner

Drive Business Outcomes through Pimcore 
Lowest TCO due to 100% open source. There is no licensing or subscription cost. -only one-time implementation charges and any support/maintenance fees post-implementation.
Improved accuracy in product data management through a Single and centralized view.
Faster time to market through Digitalization and process automation.
Increased customer satisfaction through efficiency in managing product variants, logical grouping and SEO.
Highest flexibility in data modeling to meet the needs of brand consistency.
Fully consolidated platform. Modules fully integrated with each other; yet providing the flexibility to implement specific components of the platform.
Features & Benefits
100% Open Source
100% API Driven
Digital Experience Management
Multi-Channel delivery
Customer Intelligence
B2B and B2C e-commerce framework

Consolidated data: escape silo and scattered data
Digitalization: Decrease time-to-market
Access to digital media assets 24X7
Single source and multi-channel publishing
Manage personalized experience fast
Standardized, open and modular architecture.
One stop solution for all your omnichannel publishing and e-commerce needs.
Based on PHP and the Zend Framework and utilizes leading open-source applications like MySQL and Apache.
CROSS INDUSTRY APPLICATIONS
Provide rich, contextual seamless omnichannel experience, integrated content management, marketing automation and personalization. Boost customer retention & loyalty, customer advocacy and enhanced customer lifetime value

Build a centralized Product Information Management repository for ease and flexibility of access by transforming product data into rich product information that is market ready. Establish superior product data quality, create better working relationships with Retailers and lay the foundation for Direct to Consumer strategies.

Adapt to changing economic conditions and customer expectations through new product innovations, simplified, smarter data management and unified B2B and B2C experiences. Improved Product experience becomes fundamental to driving DXP across channels through enriched data quality and harmonization, thereby improving time-to-market.

A single, unified digital experience platform to combine all disparate, external user-facing experience into a single ecosystem. Segment customer groups, store and organize measure configurations, perform financial incentives calculations, centrally manage product data and provide a single source of truth across the organization.

Implement a multi-site Content Management solution, dynamically enable Digital marketing teams to make instantaneous content changes, centralized management of website and product information. Enable content standardization, campaign effectiveness, greater flexibility, leading to a superior experience.

Enable a rich DXP by establishing a single source of truth for all Media Assets: videos, images, audio, artwork, labels and other digital files. Automate digital media asset transformation and delivery, improve brand consistency across the enterprise through effective digital asset management.
Resources
Case Studies

Blogs
Contact us