| | | |
| --- | --- | --- |
| Today's digitally-savvy customers are accustomed to unified and consistent digital experiences across every touchpoint. As consumer behavior gets profoundly shaped by increasing customer centricity, delivering the ultimate customer experiences via impeccable data management has become critical. Brand loyalty and customer retention have turned into a byproduct of high-end automation in sales and marketing functions. And seamless integration between digital and physical enhances the relevance of the product or service offered and has indeed become the pathway to the future. | | |
Pimcore is a one-stop solution for all your data and customer experience needs. Pimcore is a 100% open source and fully customizable Digital and Experience Management platform. It offers a comprehensive suite of products spanning from Product Information Management (PIM), Master Data Management (MDM), Digital Asset Management (DAM), Customer Data Platform (CDP), and Digital Experience Platform (DXP/CMS), and is a Digital Commerce Framework. In short, Pimcore is an enterprise open-source software to manage any digital data and customer experiences for any channel or device. It offers high-level data management and personalized digital experience management. Also, it solves digital transformation challenges involving multi-channel publishing, data syndication, and digital commerce by creating sophisticated, marketing-driven, personalized systems.
The platform has been listed as a "Cool Vendor" by Gartner in the Digital Commerce space and as one of the "Top 10 PIM vendors" by Forrester.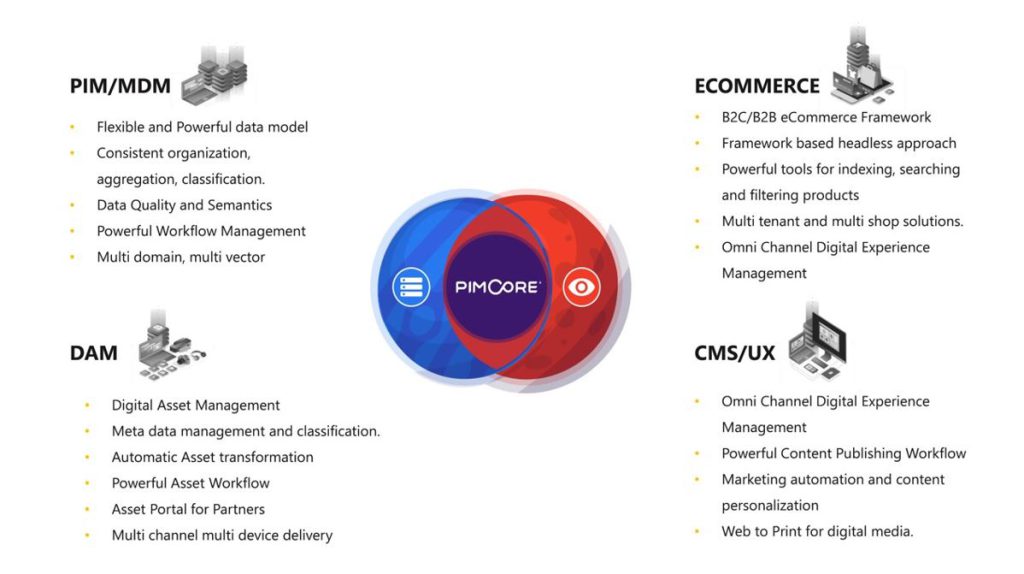 Why Happiest Minds for Pimcore?
A recognized leader in Digital Transformation, Happiest Minds is a 'Pimcore Gold Partner' and has been helping global customers leverage data and experience management technologies for driving revenue growth and improving business efficiency. With 100+ consultants dedicated to the strategy, design, development, and implementation of Pimcore, we bring to the table deep and wide vertical expertise, digital experience excellence, and a proven track record of delivering high-value digital outcomes to customers across verticals.
Digital Experience Drivers and the Pimcore Value Proposition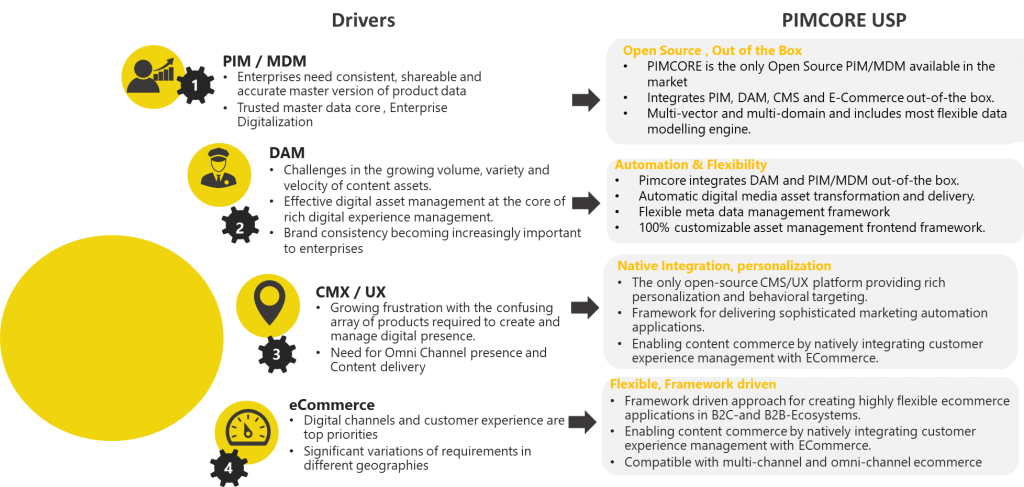 Happiest Minds as your trusted Partner

We Drive Business Outcomes as Pimcore Technology Partner with: 
Improved data management: through the creation of a trusted, golden repository of data
Faster time to market: through automation, single point of control, and agile delivery
Better customer experience: through efficiency in managing and disseminating data
Reduced total cost of ownership: being 100% open source and zero licensing or subscription cost.
Immense flexibility through seamless integration with any business application, database, or web service.
Fully customizable platform in terms of modules, functionality, customizability, and scalability.
Features & Benefits
100% Open-source
100% API Driven
Omni-Channel delivery
Customer Experience Management
Headless content and commerce capabilities
Digital commerce framework
Omnichannel publishing
Seamless Integration
Scalable architecture
Enterprise Print Publishing

Manage any type or amount of data
Consolidate, enrich, and disseminate high-quality, consistent data
Lower total cost of ownership
Decreased time-to-market
Single source and multi-channel publishing
Personalized and contextualized experiences
One-stop solution for all digital commerce needs
Accelerated digital transformation
CROSS INDUSTRY APPLICATIONS
Provide compelling product experiences, having the right amount of 'visual charm' and 'appealing narrative' needed for your digital merchandising. We help you re-calibrate your retail strategy to offer highly persuasive retail catalogs fit for any digital channel through seamless omnichannel experience, integrated content management, marketing automation, and personalization.

We assist you with:

Consistent product information
Tailored promotions and recommendations
Quick catalog modifications
Marketing automation
Removing complexity

CPG companies can effectively align with customers' evolving choices by implementing a sound data-driven strategy. They must focus on customer-centric innovation by deploying cutting-edge digital transformation. We can help CPG businesses navigate their way amidst uncertain times and market churn.

We assist you in:

Aggregating and sharing real-time information
Adjusting to the customer's buying behavior
Maximizing customer awareness
Establishing powerful integrations
Serving better relentlessly

To win customers' trust, cut down on response time, and explore new opportunities. Manufacturers must take the responsibility of their product information into their own hands. Building digital resilience means building a robust digital future resting on high-quality product information. We can help you handle complex data challenges, create effective workflows, and enable efficiency through automation.

We assist you to:

Deliver connected experiences
Enhance information visibility across networks
Amplify collaboration
Emphasize relevance and context
Decrease operational expenditure

Manage product data across channels by getting a single, consistent, complete, and trusted view of products across the supply chain. We can help your distribution business eliminate data silos, ensure product data consistency, speed up the distribution process of content to suppliers, vendors, and partners, and accelerate time-to-market.

We assist you with:

Managing data across the distribution ecosystem
Acquiring information from a client's system automatically
Drive growth and productivity
Improve efficiency
Decrease costs

The travel industry is highly dependent on impeccable product data to provide meaningful experiences and meet customer expectations, whether it's ticketing, packages, flights, accommodations, or fitting the entire itinerary together. We can help travel businesses with leading-edge data management solutions.

We assist you with:

High-end data management
Travel commerce needs
Automating operations
Personalized Engagement
Improved conversion

Businesses in the heating, ventilation, and air conditioning (HVAC) industry are looking at digitalization to improve collaboration, operational efficiency, interoperability, and overall functioning by overhauling their product data. We can help the HVAC industry businesses attain the digitalization they need.

We assist you in:

Revamping your commerce strategy
Streamlining software environment
Product data consistency
Reduce time-to-market
Improve supplier partner relationships
Resources
Case Studies

Blogs
Contact us