There have been seismic shifts in the technology world over the last few years which have resulted in the emergence of industry 4.0, network 2020 and intelligent smart devices along with embedded software. Today for a product to succeed, it needs to be able to adapt to rapidly changing standards like ETSI, FDT, MEF, ONF, ONAP, work across industry applications and adhere to complex global certifications.
With embedded and software components now being closely integrated, testing strategies and practices need to evolve quickly to enable the idea of continuous automated testing. We, at Happiest Minds are well positioned to support your end-to-end product life cycle testing needs as we bring with us deep domain knowledge and a wide array of technical capabilities.  Provided below is a snapshot of our expertise –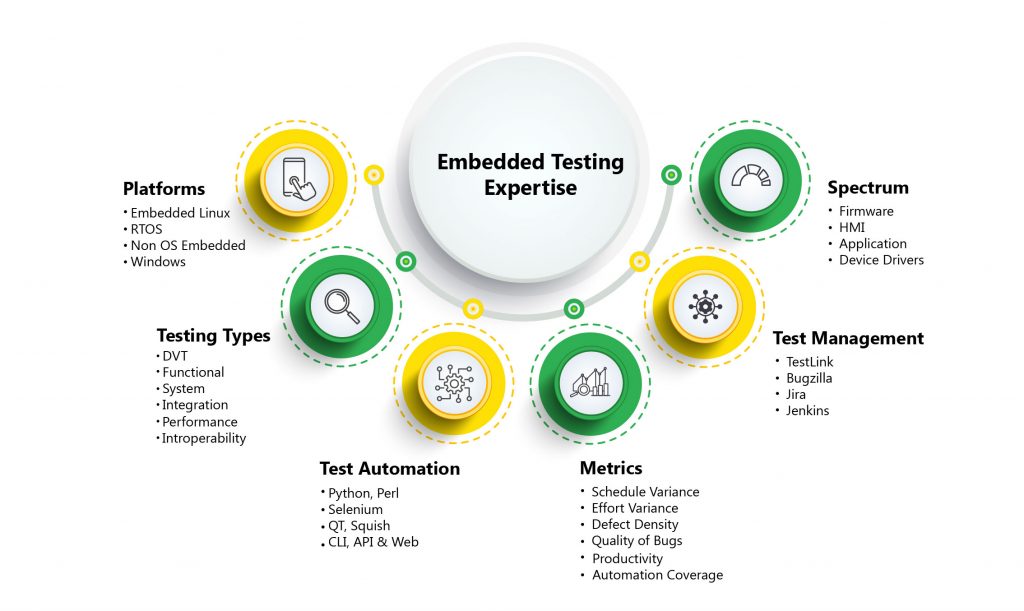 Happiest Minds Embedded Testing Services offers a comprehensive portfolio of services and solutions incorporating innovative testing process and tools for the embedded domain covering Test consulting, Test planning, Test Execution, Test Automation and Test Labs.  These service offerings are aligned to –
Device Testing
Network Testing
Industrial Protocol Testing
Security End Point Testing
Test Automation
With expertise in every phase of the product testing life cycle, Happiest Minds Technologies brings in a wealth of people experience in testing for a variety of products such as gateways, control systems, servers, single board computers, industrial protocols, network hardware and consumer devices cutting across various areas like industrial automation, IoT devices, networking and storage.