Enterprises across the world are trying to remain focused on their core business while minimizing IT investments and overheads. With identity threats on the rise, identity management solutions have become a norm for IT security and operations. For most of them, governance, risk, identity management and compliance initiatives need to be addressed efficiently and cost effectively. Any missteps in compliance could lead to strict penalties and loss of reputation, making managing and controlling access to enterprise resources a critical requirement. Also, Enterprises needs to focus on providing access to their applications through single sign-on that simplifies and secures access to the cloud, mobile and on-premise applications while increasing IT control and visibility.
Organizations should look at identity management solutions that offer a holistic approach to addressing the above as tactical or point solutions do not yield the desired results. Keeping these requirements in mind, Happiest Minds offers comprehensive and effective solutions that ensure secure access and privileges are granted to the necessary users, effectively eliminating internal and external threats. Happiest Minds brings experience and expertise to the table by defining the right parameters for secure access to sensitive information.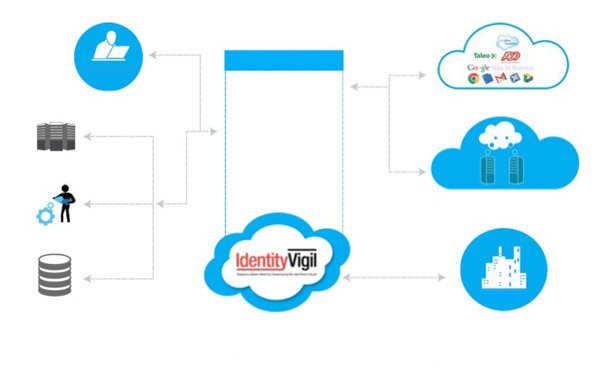 Remote worker
METHODOLOGY
Enterprise
Automated Provisioning
Federated SSO
Password Mgmt & Self-service
Privileged Accounts
Identity Compliance
Access Governance
Access Management
Virtual Private Cloud
HR Applications
ApplicationsMDM
Branch Office
Cloud Hosted Service-Meant For Enterprises Country Specific Hosting to meet Data Privacy Requirements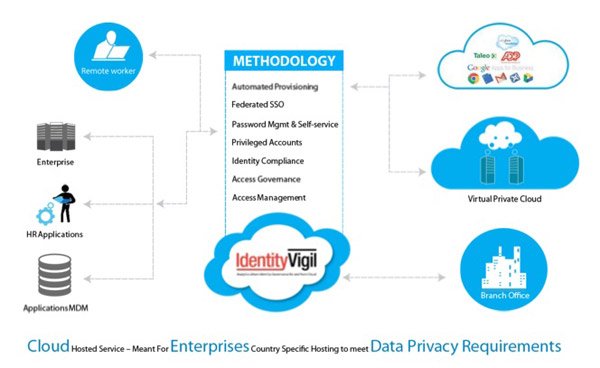 WHY IdentityVigil
IdentityVigil is one of the leading identity management solutions that helps organizations efficiently meet their security, regulatory and business access needs, through an end-to-end holistic IAG solution. IdentityVigil provides:
Machine Learning and Analytics platform which uses behavioral analytics to discover, provision, de-provision accounts automatically. It also helps to organizations to create metrics based IAM decision support further improving the closed loop remediation and address security loopholes.
Extensive Analysis of Asset, Access and User providing 360 view
The service is deployed micro services collection which can be enabled/disabled depending on circumstance and the desired level of automation
 Rich dashboards provide a user-specific summary of all certification activities organized by certification initiatives planned by the organization.
ABAC (Attribute Based Access Control) Model that significantly eases User Provisioning and Governance Activities.
Concept of Access Tags facilitates specialized Access Categorization
All IAM Services have been developed or co-engineered.
Modular Architecture that supports SSO, Password Management, User Provisioning, Access Governance activities
Device agnostic, secure and seamless single sign on (SSO) across on-premise and in the cloud applications
Scalable and flexible privileged identity management (PIM) for advanced threat protection
Platform is developed to handle devices and relationships between devices
Modules
IdentityVigil is the most agile, analytics-driven identity access and management solution enabling continuous compliance in a cost-effective way. IdentityVigil provides a 360° view of each user's identity and applications, establishing critical links between a user's identity and their access privileges. It provides greater visibility and insights through configurable dashboards, risk metrics and compliance specific reports.

Features

360 degree view on who can access what data, when, and for how long along with the access changes that are occurring in real time.
360-degree view of access and the risks posed to enterprise data
Access Request and Approval: configurable workflow to manage access request and approval processes. Access Approval Process ensures
Access Change Monitoring: highly scalable engine that can detect, analyze and notify key access changes across all applications.
Access Controls: Simple and easy deployment configuration of regulatory and compliance controls with intuitive and feature rich UI.
Access Certification: A platform for supports performing scheduled, event-driven, need-based and ad hoc Access Certification.
Identity Analytics: A comprehensive analysis and reporting of what users are doing with access granted

Benefits

Comprehensive view of the roles and privileges of various departments
Highest level of compliance and regulated access control – supports continuous access governance and not just periodic access governance
Analytics driven access governance – comprehensive analyses of access grant powered by dynamic rule based access and data categorization process
Business user-friendly interface
Availability of a wide variety of connectors for integration with most of the applications and platforms
Reduces the need for frequent access certification / recertification
Supports collaborative decision-making during certification.
Support ad-hoc certification of any user access at any time.
Deep insight into how access is being used by users across all assets in the organization

IdentityVigil's PIM Solution helps monitoring and protecting super user accounts in an organization's IT environment so that the greater access abilities of super control accounts are not misused, abused or attacked. Privileged accounts have typically been very loosely governed, and they can lead to loss or theft of sensitive corporate information, or malware that can compromise the network. Identity PIM protect against both internal and external threats, providing complete life-cycle management, governance and intelligence on privileged accounts.

Features

Application Access Control: Configure virtually every on-premise and cloud-based application for secure, automated login on local machines
Approval workflows: Enables to configure password check out. Configure checkout rules for any user or role.
Deeper Auto Discovery: Comprehensive discovery helps avoid leaving accounts exposed – ability to reliably discover and secure the widest range of privileged accounts, right out-of-the-box
Easier Integration: Native integration with leading help desk systems, security frameworks, directory services and much more
Session Recording: Configured to record automatically, whenever users access selected corporate applications – both on-premise s and in cloud.
Auditing, Logging and Reporting: Record, audit and report every action performed

Benefits

Stays secure as your IT environment evolves
Reduces IT Audit Cost and uncertainty
Monitors privileged user actions
Eliminates error-prone IT tasks
Provides a delegated interface to launch corporate applications – whether hosed on premises or in the cloud – with a single click.
Workflows that saves management time while granting faster access to authorized IT staff whenever needed for routine service or emergency fire call repairs
Administrators with Auditor rights can search and play back the session recordings

Device agnostic, secure and seamless single sign-on (SSO) experience for SaaS and On-premise Applications – IdentityVigil provides the comprehensive SSO solution that enables IT and security organizations to simplify user access to applications that are on premise or in the cloud.

Features

Federated SSO: Supports federation services and securely share identity information across heterogeneous systems or domain boundaries using standard identity protocols (SAML, WS-Federation, OpenID Connect).
Web SSO: Supported through a self-contained gateway that protects web applications where installing a policy agent is not required.
Two factor authentication: with Multi-factor Authentication
Enterprise SSO (ESSO): Single Sign ON capability for thick client applications like SAP, Oracle Financial, Mainframe and other windows applications.

Benefits

Flexible and easy access to applications through single sign-on that simplifies and secures access to cloud, mobile and on-premise applications
Increased IT control and visibility
Considerable reduction in help desk calls and increased IT operational efficiency- as users need to remember only one password: eliminates 40% to 60% of password issues.
Improved user productivity by at least 30% – having to remember and key-in only one password can significantly cut down login time and reduce the chances of a failed login.
Enhanced user experience and improved compliance reporting capabilities.
Resources
WHITE PAPERS

Case Studies
Contact us