The evolution of digital technology has fostered businesses to expand their presence globally much faster than ever before. The increased adoption of Cloud, SaaS, IoT, and more, has resulted in a widely distributed digital footprint. On the other hand, it has also become vulnerable to the increased threat landscape, which is more evasive, adaptive, perseverant, and targeted. Businesses need to build more comprehensive security strategies to tackle this, adopting next-generation detection and response methodologies to enable a secure digital expansion. This current scenario demands an integrated cyber risk management approach to tackling all cyber security risks and threats in cyberspace. Building an effective threat defense mechanism also means leveraging relevant analytics, cross-correlation across the vast security domains, and automation.
Happiest Minds, with its experience of supporting a wide range of customers, has developed its Cyber Risk Protection (CRPP) to efficiently address the challenges customers face in adapting to the ever-changing threat landscape.
Our Next-Gen Cyber Risk Protection Platform (CRPP) Service
Cyber Risk Protection Platform (CRPP) is based on some of the best practices and essential data sources defined by Mitre att@ck, which contributes to effective detection of an attack that can engage different tactics and techniques in each attack phase. Our CRPP leverages multiple security technologies which have been leaders in their space for many years in the Gartner quadrant, such as IBM QRadar (Next gen SIEM), EDR, SOAR platforms, and more. These provide deeper analytics and insights for an integrated approach to handle the overall threat lifecycle and address cyber security risks holistically and stay ahead in the game.
Why CRPP?
Integrated threat detection and response across multiple layers of enterprise IT, removing siloed approach to security. An easy plug and play methodology to suite your business requirements.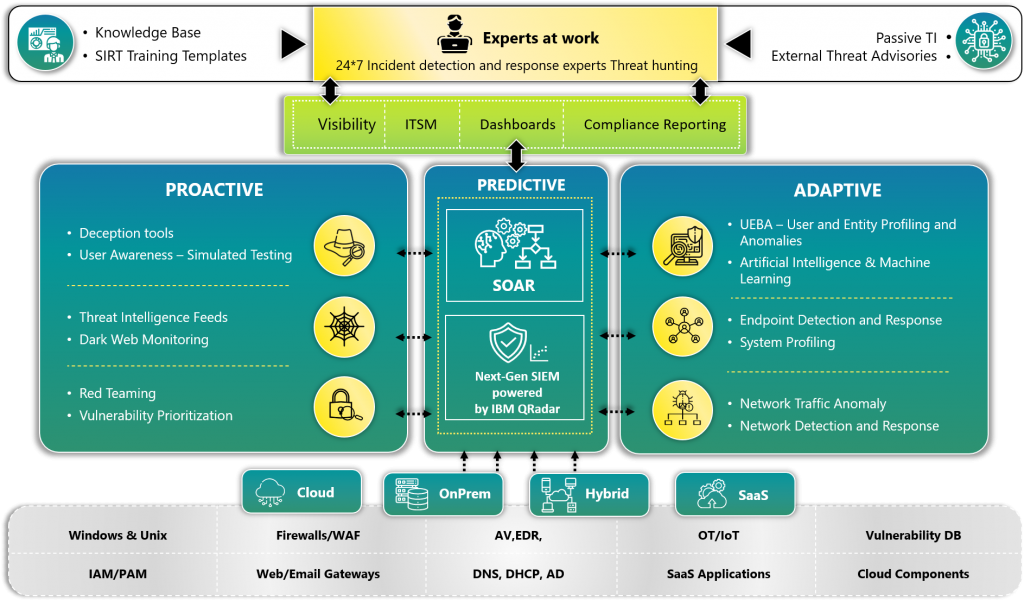 Proactive
Stay ahead with proactive Dark web monitoring for preempting a potential attack by early identification of possible weaponization against a company or its peers
Global threat intelligence-based correlation to detect true positives, to channelize efforts in right direction
Prioritize threats based on vulnerabilities you may be exposed to
Proactive threat simulation to check effectiveness of security controls, detection tools and Security Incident response process
Educate and strengthen the weak links of your organization through simulated phishing, vishing techniques
Adaptive
Early adoption of Artificial Intelligence and Machine learning techniques to understand your environment and detect anomalies
Leverage UEBA, EDR and NDR to bring that detection capabilities to profile systems , network traffic, users, and entities to detect Zero day and Advanced threats in your environment
Predictive
Leverage the wide integration capability of our Next Gen SIEM built on Qradar which seamlessly integrates with On prem, cloud, SaaS, and Hybrid environments
Wide list of two-way integration and actions through our SOAR platforms, for effective incident detection, response, containment, and remediation
Well defined Mitre att@ck TTP based alert mapping for extended and accurate detection coverage
HAPPIEST MINDS 360-DEGREE APPROACH TO CRPP
Business requirement Assessment:

Identify the business requirements and alignment.
Evaluate solution fitment for customer expectations and reporting

Product Evaluation:

Conducting proof of concept, evaluate solution fitment in customer environment.
Custom connectors for unsupported devices for PoC
PoC assessment and fitment report

Maturity Assessment:

Assessment of existing configurations
Assessment on the SOC process, its adherence and skill set levels
Assessment report with recommendation

Solution Design:

Technical architecture, design, and documentation

Implementation:

Implementation of MDR tools – SIEM, EDR, SOAR, NDR etc.
Data Sources integration and info fusion
Custom Connector development
Content development including dashboard, playbooks
Use Cases activation, custom use case & automation use case development.
Development of playbooks
Customized Dashboards Creation

Gap assessments:

Evaluate existing configurations
Fine tuning and customization of use cases against best practice and environment mapping.
Additional integrations and custom connectors development
Customized dashboard, playbooks, automation and reporting development

Services Rollout:

Design, implementation, and integrations

Security Incident response:

24*7 SLA based monitoring and reporting
Incident investigation and analysis
Automated remediation, Remediation/containment recommendations and support
Proactive threat hunting
Daily, weekly, monthly, and quarterly reports
Monthly and quarterly governance review

Platform engineering:

Ongoing integrations and custom connector development
Ongoing custom usecase and custom dashboard developments
Ongoing playbook and Automation use case developments
System upgrades and patching
Resources
WHITE PAPERS

Case Studies

Brochures
Contact us