Effective Third-Party Risk Management is a critical component of modern business operations. By assessing risks, conducting due diligence, implementing strong contractual agreements, monitoring activities, and maintaining open communication, organizations can safeguard their data, reputation, and compliance. With careful planning and proactive measures, companies can successfully navigate the complex landscape of third-party partnerships while minimizing potential risks.
Navigate the complex landscape of partnerships with Happiest Minds' specialized Third-Party Risk Management services. We help you safeguard your business from potential pitfalls by meticulously assessing external partners and vendors. Through our comprehensive security and compliance evaluations, we ensure your digital ecosystem remains fortified, enabling you to forge ahead with confidence. Trust us to be your shield in a digital world filled with possibilities and risks alike.
Our TPRM Methodology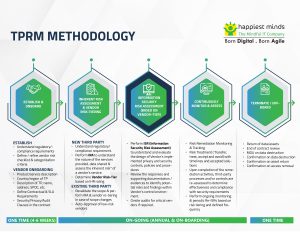 Benefits of Effective Third-Party Risk Management:
Enhanced Security: Minimize the risk of data breaches, cyberattacks, and other security vulnerabilities caused by third-party relationships.
Compliance: Ensure that your organization and third parties adhere to industry regulations and standards.
Business Continuity: Reduce the impact of potential disruptions caused by third-party issues on your business operations.
Reputation Protection: Protect your organization's reputation from negative PR and damage caused by third parties.
Cost Savings: Avoid financial losses that can result from third party-related incidents.
Manage risk & resilience in real-time. Talk to our TPRM expert today! – [email protected]