Digital Assurance and Testing 
Happiest Minds primary focus is to help organizations deliver high quality software and applications that work flawlessly as intended under any conditions across any platform or channel through innovative and robust quality assurance processes. We offer a wide spectrum of services that can function as a holistic, total quality management package across businesses, domains, and technologies. Our Digital Assurance & Testing portfolio provides a full spectrum of software quality validation and testing services and processes to assure you to meet your business outcomes.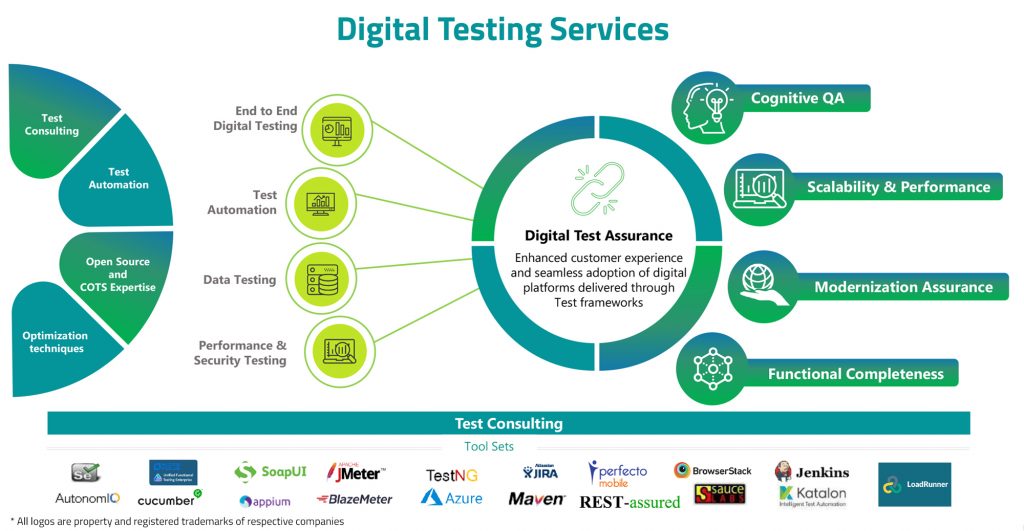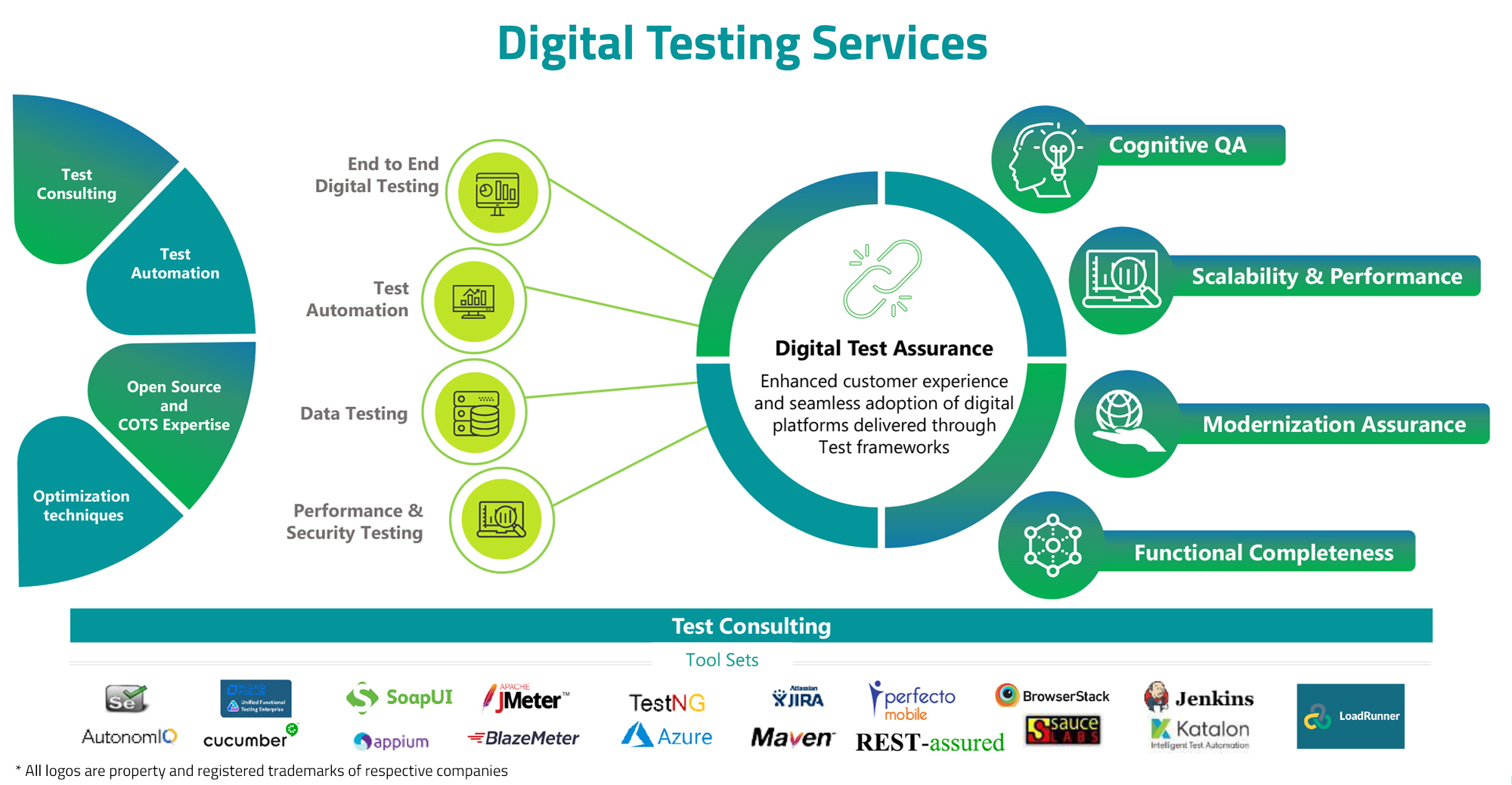 Happiest Minds service offerings include functional and non-functional software testing which cuts across all the platforms, Layers & Channels which includes Functional User Journey Tests, Automation Testing Performance, Data Warehouse & Big Data Testing Services and Cognitive QA assuring flawless digital transformation and extensive consultation and advisory services on how to get the most out of your Quality Assurance practices to meet your business objectives. The happiest minds team have expertise in understanding and leveraging industry wide popular tools and platforms like Selenium, Cucumber BDD, Appium, Jmeter, Rest Assured, Load Runner and Jmeter to name a few.
We believe, for any digital transformation initiative to be successful enterprises need full stack end to end digital services. Our Digital testing services enable digital transformation by reducing the business risk of validating the digital solutions that are intended to create an exceptional customer experience and differentiates an organization from its competitors. Happiest Minds offers comprehensive digital testing solutions that ensure quality in complex digital innovations while meeting speed to market and budget requirements.
In today's shift towards Agile and DevOps and frequent builds, companies demand faster, more comprehensive testing to improve quality and your time to market. With our leading quality expertise, proven methodologies and accelerators, we assure increased customer value and measurable business outcomes from both your digital transformation programs and traditional core IT systems. An integrated approach to testing and development activities is the need of the hour that helps organizations realize the full compelling benefits of agile software development. Happiest Minds partners with customers to understand their business and develop state-of-the-art testing solutions to improve quality, increase speed and reduce risks and costs. Our flexible pricing models provide on-demand testing services for projects, programs or enterprises
Our team of digital test specialists offers deep experience in all the complex technologies that are required for digital transformations. Using our Cognitive QA Test Platform which offers Autonomous testing capabilities, the testing team will be able to generate automation scripts on the fly and reduce the overall maintenance effort which helps the project team to reduce the overall cost with improved test coverage and reliability and ensuring flawless customer experience and faster time to market.
Happiest Minds Digital Assurance Solution helps clients:
Engage their end customer by providing seamless customer experience across channels and features
Integrate business processes across diverse technologies
Accelerate IT life cycle for faster time to market
Leverage AI/ML based Test Platforms for Intelligent Test Automation cutting across all the business layers.
About the service
Happiest Minds Digital Testing Offerings offers the following Services:
Testing Strategy and Assessment: Assisting clients with end-to-end testing and quality assessment processes which include everything from planning to final recommendations
End to End Functional Testing Services: End-to-end Functional or User Journey testing are conducted on the entire software product from beginning to end to ensure the application flow behaves as expected. Happiest Minds QA team leverages will leverage the Best practices and Frameworks ensures all integrated pieces work together as expected.
Test Automation: Provide robust set of tools and assets to consistently support the entire spectrum of automation-related testing activities across multiple channels and platforms which include automation at UI, API & Database level by leveraging industry accepted toolsets and platforms – Opensource & COTS; reducing the regression testing time and cutting down the time to market with significant cost savings on a long-term basis. However, a clear automation strategy and roadmap are key to ensuring the right return on investment on your automation initiative.
Performance Testing: The reliable and consistent performance of your business-critical applications is the key to success of your enterprise. However, performance issues within an application are often identified in live scenarios which result in considerable damage to the reputation the brand value. Happiest Minds help the customer's predict application behaviour and performance in a simulated, real-life environment, thus saving the customers from unpleasant events later. We provide a wide range of strategies and tactical test services to help in tuning your performance metrics.
Cognitive QA: As part of Cognitive QA, we can leverage Artificial Intelligence (AI) and Machine Learning (ML) to achieve higher test automation. With Cognitive QA, our Intelligent approach enables the delivery of quality with speed in a connected complex world. The Intelligent approach to QA uses cloud-based AI/ML Driven intelligent test automation framework to deliver informed decision making, fast validation and automatic adaption of test suites at an optimized cost.
Testing Center-of-Excellence: Alignment of the QA strategy to your business goals is critical to ensure the QA enterprise delivers on the dynamic expectations of the business. At Happiest Minds, we help you transform your QA to a next-gen organization by setting up a Testing Center of Excellence (TCoE) and work closely to come up with the overall vision, roadmap, and structure of the overall Program