Loyalty Programs, where customers earn reward points that can be redeemed for benefits later, are popular across industries such as Retail, Travel, Hospitality, Banking, Airlines, and others. Such programs have been around for several years. However as enterprises and their customers go digital, the customer loyalty space is in the process of getting disrupted. This article presents a point of view on these disruptions, through four key dimensions of loyalty programs.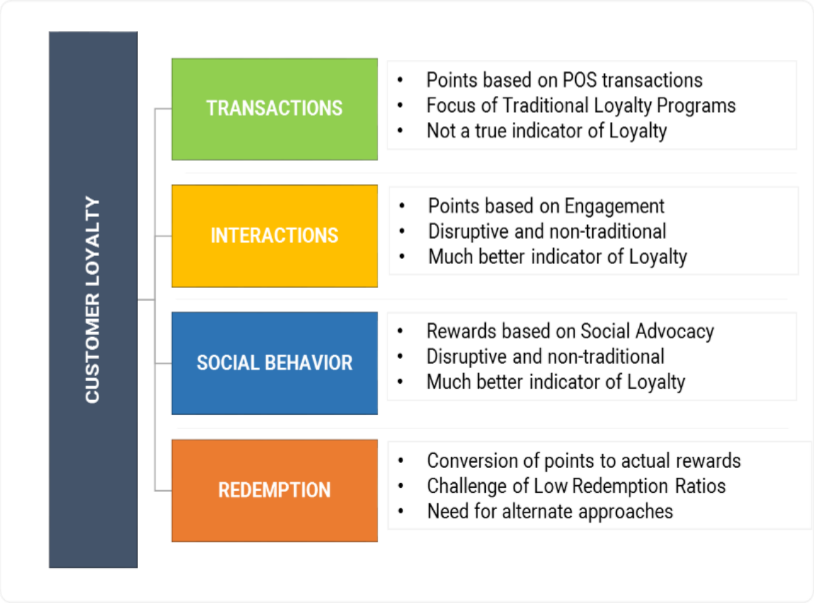 Transaction based Loyalty Programs
These are the traditional and well known programs which award points for point-of-sale transactions. The objective is to encourage customers to transact (spend) in large volumes. Most people today are enrolled in at least one such loyalty program.
However the key disadvantage of these programs today is that transactions are only a reflection of how much customers are spending and not really a true indicator of how loyal those customers are. Put another way, true loyalty is related to what customers feel about a brand and is tied in with emotions, brand sentiment, and the overall sense of identifying and connecting with what a brand stands for. Transaction based loyalty programs cannot really give a brand such insights and therefore may not be the best indicators of customer loyalty.
Recommendation: Brands which already have a traditional reward point loyalty program in place, need to complement these with Engagement and Social Media based loyalty programs. Brands which don't have a traditional program can consider an integrated approach to reward customers.
Engagement based Loyalty Programs
Transactions are really an outcome of how loyal your customers are. The real business need is to focus on what causes loyalty in the first place. One of the primary causal factors for loyalty is the levels of engagement that brands have with their customers.
This gives rise to the area of Engagement or Interaction based loyalty programs, where reward points can be allotted based on customer interactions and engagement levels with the brand. Engagements can be defined as bi-directional, consistent, dialogue-based interactions between a brand and its customers. Such approaches are non-traditional and disruptive, but are likely to be a much better indicator of how loyal your customers are.
Recommendation: Brands need to start planning for how they want to engage with their customers in a sustained, bi-directional, dialogue based manner. The strategy needs to include how to reward customers for such engagement based interactions, and how to integrate these with traditional transaction based programs which might already exist.
Social Advocacy based Loyalty Programs
In the Digital Age, the primary business impact of Social Media is related to brand image and reputation. Customer complaints and concerns are now in the public domain – and have the ability to adversely and rapidly impact your brand image. Additionally, it's not just about image and reputation: A large majority of new customers base their buying decisions on recommendations / complaints from their network and this can have a direct and significant revenue impact.
As a brand, there is no way you can prevent customer complaints and concerns being voiced on Social Media. What you can try to do however, is to counter this by identifying brand advocates and ambassadors and encourage / incentivize them to speak positively about your brand in Social Media. This gives rise to the concept of 'Social Advocacy' based loyalty programs, where reward points are allocated based on brand recommendations made by customers on their social networks.
Recommendation: Brands need to start evaluating how Social Media is impacting their brand image and reputation. Brands who are already doing so, need to move ahead to plan projects where they can identify and incentivize brand influencers and advocates on social media.
Redemption Programs
From the customer's perspective, redemption is the primary reason for enrolling into a points program. Traditional redemption programs exhibit mixed results. When points are redeemed, there is a direct impact on customer happiness, especially if the redemption process is smooth. However an interesting data point is that 60%-70% of loyalty points are never redeemed. The three primary reasons for this are high redemption thresholds, limited choice of products available, and complexity (customers typically are members of a number of loyalty programs at the same time).
If you are a brand running a loyalty program, unredeemed points are a challenge, primarily because your engagement with customers goes down, along with customers' interest in the loyalty program itself. Over the long term, customer dissatisfaction with unredeemed points can defeat the purpose of the loyalty program itself. Additionally, unredeemed points are effectively a liability in your accounts – till they expire or are redeemed. In summary, increasing redemption levels is effectively a high priority business need for any brand running a loyalty program.
Recommendation: Brands who are running any type of loyalty program need to be aware of the challenges for redemption and evaluate alternate and disruptive redemption approaches that can address these challenges.