Most Enterprises have their IT infrastructure spread across private, public and hybrid clouds making management of such a distributed setup a complex task. A mobile workforce that requires anytime, anywhere access to a plethora of applications and data adds to the challenge. This next-gen dynamic work environment cannot be tackled with traditional IT infrastructure monitoring and management tools that function in silos. Such tools are generally personalized for specific products, or can ingest and analyze only structured data, resulting in cost escalations and poor user experience.
Enterprises are therefore looking for advanced options that can reduce total cost of ownership (TCO), improve infrastructure and application uptime, and enhance user experience and productivity, ensuring IT operations are agile and aligned to the organization's digital strategies. ELLIPSE, Happiest Minds' next-gen managed services delivery platform is the ideal solution that comes to the rescue.
A modular platform with multiple tools integration, ELLIPSE is supported by a powerful analytics backend coupled with machine learning capabilities. The platform integrates with IT service management and automation tools, facilitating artificial-intelligence-enabled IT operations (AIOps). ELLIPSE solves issues such as operational complexity, lack of unified IT visibility and actionable insights, poor user experience, low IT service levels, customer churn and revenue leakage that traditional IT infrastructure tools fail to address.
Happiest Minds offers tiered managed services enabled by the ELLIPSE platform: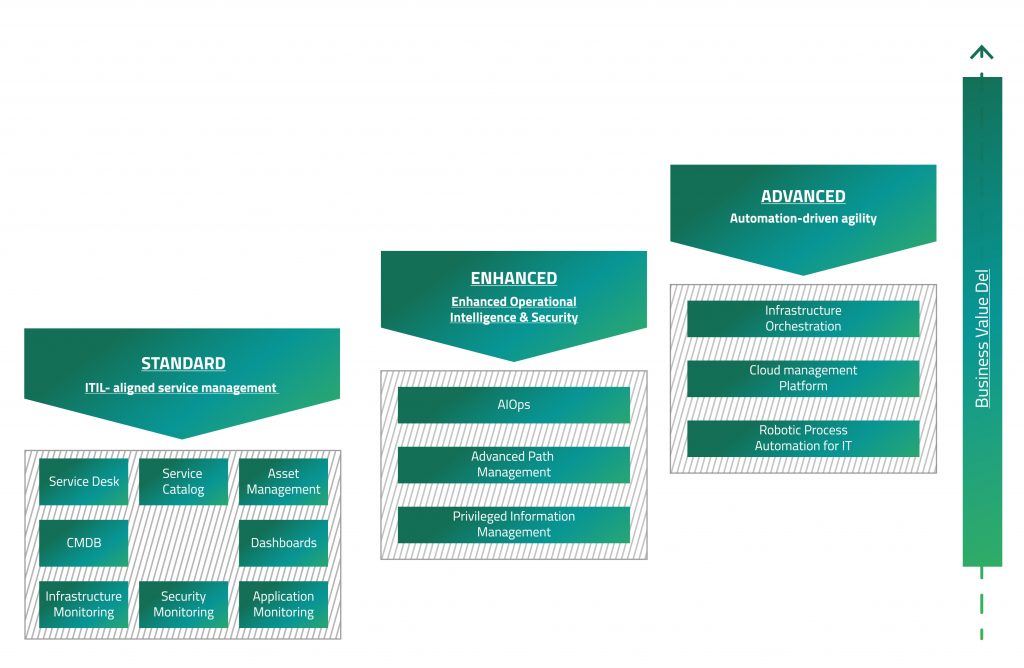 Key Differentiators
Happiest Minds' managed infrastructure services powered by the ELLIPSE platform enable agile infrastructure operations helping enterprises accelerate their journey toward IT-as-a-service by facilitating the following:
Reduction in mean time to resolution (MTTR) and higher availability of business applications/systems and internal portals
Increase in response time for business-critical applications
Provisioning of an automation platform that is tailored to client needs
Reduction in IT infrastructure operational costs by up to 30%
Improvement in end user experience
Delivery of actionable insights for IT operations teams
Reduction in resource costs and improved SLAs for service delivery
Features & Benefits
Facilitates reactive to proactive IT operations in 3 steps:
Integrates structured and unstructured data sources (SNMP, CLI, WMI, JDBC, lightweight agents, REST API-based infrastructure discovery and health monitoring) in real time
Runs analytics and machine learning algorithms for data enrichment, correlation engine and contextual alerts
Generates powerful visualizations and alerts via intuitive and interactive user-configurable dashboards
Supports business service management, analytics and metering through user portals, dashboards, orchestration and automation
Automates IT service management (ITSM) for better incident management
Brings about event aggregation and policy-based automation
Handles next-gen IT infrastructure monitoring, management and self-healing

Standardized and cost-efficient IT operations

Increased productivity, process, and operational efficiency through knowledge-centric IT operations
TCO optimization through protection of existing investments and controlled OpEx through flexible and transparent pricing models
Improved user experience monitoring

Enhanced operational intelligence and security controls

Faster response to incidents with deep drill-down, contextualization and intelligent alerts
Unified visibility across infrastructure and apps, resulting in better user experience
Business-service-level visibility through dashboards for CxOs and IT admins
Advanced patch management and privileged information management with improved security controls and lower risk

Automation-driven agility

Robotic process automation for faster incident resolution and ITSM automation
Hybrid and Multi-Cloud management
Resources
WHITE PAPERS

Brochures