Overview
To Automate, Accelerate, and Orchestrate the Threat Defense Lifecycle
Without a doubt, the digital world is shifting its play fundamentally. remote end users, productive development of data and devices, cloud-based infrastructure and consumerization are all driving enormous growth and advances. However, all these ultra-accelerated businesses, social and technology innovations also accompany its share of added risk. Therefore, it becomes vital for organizations to continue to be competitive, yet stay within acceptable levels of risk.
This current scenario demands an integrated approach to tackling all the risks and threats in the cyber space. An approach that leverages multiple technologies employed together to effectively address all the cyber security risks from detection to triage, to response, and remediation. Building an effective threat defense mechanism also means leveraging on automation, deep and relevant analytics, cross correlation across the vast domains of security.
Happiest Minds Cyber Risk Protection platform helps organisations leverage on multiple security technologies including SIEM, advanced and next generation network, endpoint security and DLP, providing deeper analytics and insights for an integrated approach to handle overall threat lifecycle and address security holistically.
Why Cyber Risk Protection Platform
Integrated threat detection and response across multiple layers of enterprise IT, removing siloed approach to security
Enhanced visibility and situational awareness across network, end points and cloud
Leverage best of the breed technologies and security best practices
Tiered approach to address security needs based on threat/risk profile of organization
Analytics driven framework for better contextualization
Automated, adaptable for continuous monitoring and response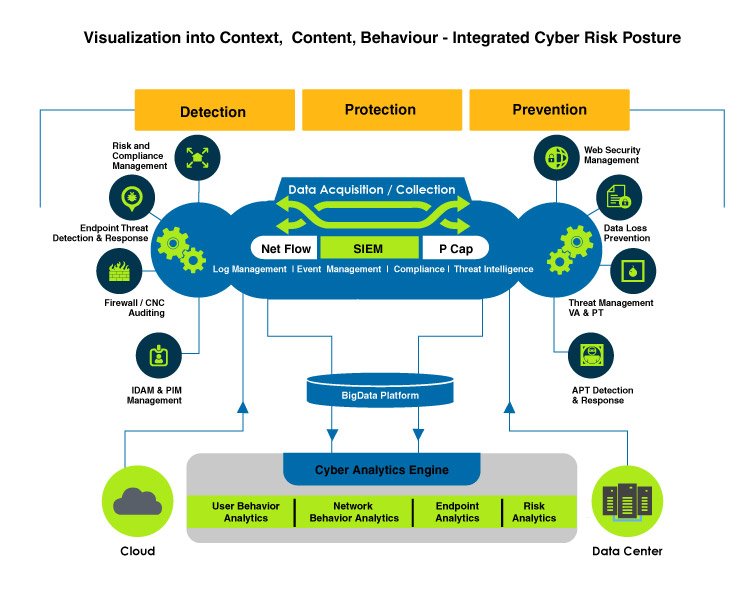 Benefits and Use Cases
Benefits
Integrated strategy and plans across functions to consciously mature your organization's security capabilities
Consolidated internal and external intelligence to contextualize and prioritize
Tighter integration between data, processes, and products to improve visibility, enable more effective analytics, and action
Detect, interpret, and respond to events effectively & comprehensively
Enable cost reduction of incident response and compliance despite an increasing volume of events, incidents, and regulatory actions.
Real time visibility, to effectively detect, investigate, and adapt to future attacks and remediate
Comprehensive security and management that narrows the time to detection and resolution from days, weeks, or months to hours, minutes, or even seconds
Use Cases
Log management, event management
Compliance reporting
Advanced threat protection
Web estate protection
Data loss prevention
Vulnerability assessment and prioritization
Network and end point forensics
Cyber and risk analytics
Risk management and decision support
Resources
WHITE PAPERS

Case Studies

Brochures
Contact us