ComplianceVigil – IT Risk Assessment & Compliance Management Solution
For effective IT Risk Assessment and Compliance Management, organizations today have to demonstrate adherence to a series of standards and controls while proving that they actually exist. But there are challenges in implementing in performing an IT risk assessment and ensuring compliance management is proper; especially in the form of determining the relevant regulations that need to be adhered, while ensuring the evidence gathered is in compliance with the identified regulations. Non-compliance can affect a business' reputation and shake customer confidence. This is mainly because it directly translates to a questionable integrity of the organization. Happiest Minds ensure these challenges are overcome though its robust IT risk assessment and compliance management solutions.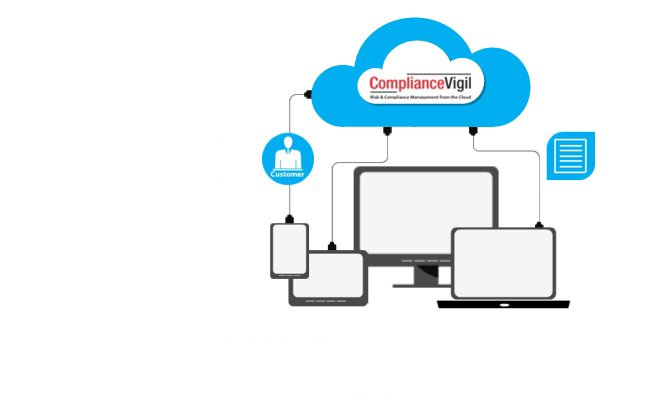 Only platform that can deliver
logical & technical control monitoring
from the Cloud
Governance, Risk & Compliance
Methodology, management, automation, monitoring and reports bundled into a
single platform & delivered from the cloud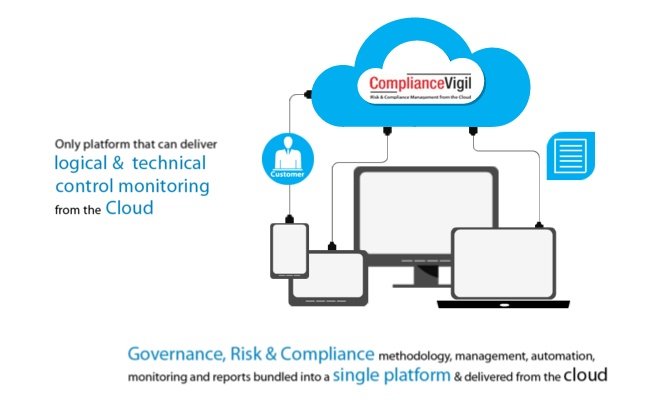 WHY ComplianceVigil?
ComplianceVigil solution provides a platform for risk and compliance (R & C) management wherein the framework, management, automation and monitoring of the R&C is bundled into one single platform and delivered from the cloud (private or public). This IT risk assessment and compliance management platform allows to capture all matters of compliance and related data on a single system in order to assist enterprises to keep time and effort up with ever increasing regulatory requirements.
The solution also offers various IT risk assessment and compliance management features that can be implemented with minimal time and effort as it comes with pre-configured policies and standards such as PCI DSS,ISO 20000, ISO 27001 ,SOX , HIPAA , Supplier Risk , Application Risk and many more. Happiest Minds ensures all mandated norms and guidelines are strictly adhered to with its IT risk assessment and compliance management platform – ComplianceVigil; leaving IT to focus on day-to-day operations and development.
Features & Benefits
Compliance Management

Common framework and an integrated approach to meet cross-industry regulations such as ISO 27001/2, SOX ITGC, FDA, HIPAA, PCI DSS, FERC, FAA, HACCP, OMB A-123, AML, Basel II, and data retention laws.
Custom compliance policy as per the enterprise's regulatory needs.
Ongoing compliance monitoring
Role-based dashboards and scorecards
Process ownership, assessment plans, remediation status

IT Risk Assessment

Integrated and flexible framework for documenting and assessing risks, defining controls, managing audits, identifying issues and -remediation plans
Risk calculators and risk heat-maps for risk analysis , risk monitoring and business impact assessments

Vendor Management

Configurable framework is to identify key risks, manage, mitigate and minimize the risks arising from vendors, suppliers and partners.
Risk Analysis and risk self-assessment for all vendor processes
Automated or manual assessment-of events such as supplier non-compliance with SLA
KRIs (Key Risk Indicators) & risk mitigation options
Issue Management and remediation
Risk Scorecards and dashboard reports

Compliance Management

Compliance & audit policies for instant use
Polices/SLAs/Frameworks that suit an enterprise's needs
Workload sharing through role based access control & delegation for all levels
Comprehensive compliance tracking & reporting
Easy management of all compliance needs

IT Risk Assessment

Risk assessment and monitoring reports for many regulations, specifically ISO 27001/2 compliance
Enables a risk-driven approach to key decision making and investment planning
Establishes clear ownership of enterprise assets and risks

Vendor Management

Risk assessment and monitoring reports for many regulations, specifically ISO 27001/2 compliance
Enables a risk-driven approach to key decision making and investment planning
Establishes clear ownership of enterprise assets and risks
Modules
Features

Common framework and an integrated approach to meet cross-industry regulations such as ISO 27001/2, SOX ITGC, FDA, HIPAA, PCI DSS, FERC, FAA, HACCP, OMB A-123, AML, Basel II, and data retention laws.
Custom compliance policy as per the enterprise's regulatory needs.
Ongoing compliance monitoring
Role-based dashboards and scorecards
Process ownership, assessment plans, remediation status

Benefits

Compliance & audit policies for instant use
Polices/SLAs/Frameworks that suit an enterprise's needs
Workload sharing through role based access control & delegation for all levels
Comprehensive compliance tracking & reporting
Easy management of all compliance needs

Use Cases

Translates the compliance mandates into standards
Distributes the ownership of compliance adherence across stakeholders
Tracks the status of exactly what evidence is needed to prove compliance
Effectively capture evidence and securely store it

Features

Integrated and flexible framework for documenting and assessing risks, defining controls, managing audits, identifying issues and -remediation plans
Risk calculators and risk heat-maps for risk analysis , risk monitoring and business impact assessments

Benefits

Risk assessment and monitoring reports for many regulations, specifically ISO 27001/2 compliance
Enables a risk-driven approach to key decision making and investment planning
Establishes clear ownership of enterprise assets and risks

Use Cases

Integration with and assessment of information risks pertaining to enterprise assets
Classification of assets, define and assign asset owners
Risk assessment framework customization as per enterprise needs
Continuous risk management & monitoring to the enterprise assets

Features

Configurable framework is to identify key risks, manage, mitigate and minimize the risks arising from vendors, suppliers and partners.
Risk Analysis and risk self-assessment for all vendor processes
Automated or manual assessment-of events such as supplier non-compliance with SLA
KRIs (Key Risk Indicators) & risk mitigation options
Issue Management and remediation
Risk Scorecards and dashboard reports

Benefits

Ability to assess security maturity of suppliers and risks in any jurisdiction by just providing them with the URL
Partners become active participants in the assessment
Ability to provide a consolidated vendor compliance overview to customers.
Ability to provide reports on how any vendor compares to the overall state in the industry

Use Cases

Comparison report on the vendor security posture against the industry standard
Reports made available to the client as well as to the vendor
A periodic and repetitive process for assessment
Consolidated vendor compliance overview

Features

Traceable Actions with correct and configurable ownership
Corrective action may be initiated for any time of assessments – Non-Compliance, Existence of actual Risk and mitigation there of
Risks raised against Non-Compliance or Audit Findings , can have weightages assigned

Benefits

Immediate Remediation and Mitigation possible for all identified Non-Compliances and Risks
Re-usable action list for similar risks
Time driven actions enable faster implementation
Dashboards on completion status of the Corrective Action

Use Cases

Every non-compliance or risk can have a Corrective Action raised either by a Reviewer or Auditor
Actions can be timed to have them completed before the next audit/assessment cycle
Risks can be raised to demonstrate the consequence of non-completion of the Corrective Actions
Resources
WHITE PAPERS

Case Studies

Brochures

ComplianceVigil

Organizations, today have to demonstrate adherence to a series of standards or…
Contact us