Overview
Physical stores present a great opportunity for retailers to connect with the customers, attract them and inspire the loyalty. Selling goods in-store is now an Omnichannel experience driven by Digital Transformation especially, mobility, analytics and IoT.The data on customer preferences, buying patterns, demographic attributes help retailers to optimize their business in a better way, be it in terms of targeted promotions, staff optimization or increased sales conversion.
Smart retailers are looking for advanced in store solutions to evaluate the total sales opportunity by accurately counting the store traffic, gauging customer behavior in-store and related conversion. Are you in?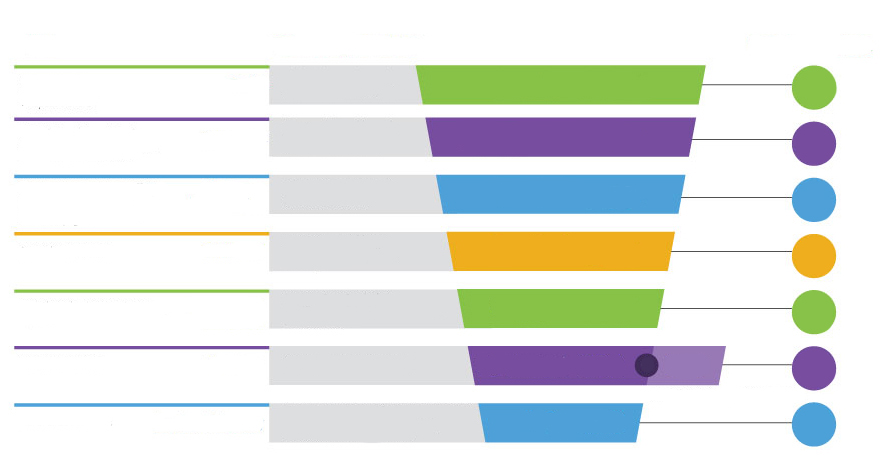 KPIS
Total Visitors
Unique Visitors
Repeat Visitors
Total Visitors (Loged In + Anony-mous First Time/Guest Users + Anonymous Repeat Users)
No of costumers who are offered Real-time promos or Personilized Recommendation on Specific pages-PDP, Cart Page etc
Logged in Customers
Click through rate on customer specific offers / recommendations
No. Of Conversions
No. Of Likes / Reviews
Traffic
Engagement
Customer Identification
Reach-Out
Response to
Reach-Out
Purchase
Loyalty/Advocacy
Technology Enabler
Video/Thermal Imaging
based people counting
Beacon/Sound based (App
Installed: Known +
Anonymous Customers )
Beacon/Sound based


(known Customers)

Beacon/Sound based
(Engagement Notifications
Deliverd)
Mobile App Analytics
(Notifications Clicked on or
Favorite /Subscribed to)
PoS(Transaction Count)
Facebook/Social Media/Exit Survey
(Reviewed Product/Liked/Provided
positive Feedback Net Promoter Score)
Footfall 2800
Engage-able 1700
Identified 1480
Reached 1300
Engaged 1150
Purchased 800 + 900

(Anonymous customer purchases)

Liked 400
Conversion Rate
100%
61%
50%
60%
46%
1700
14%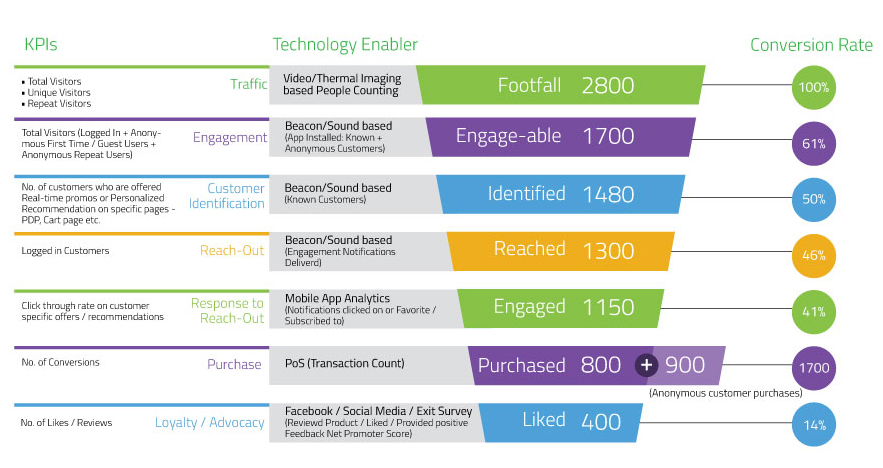 Why In- Store Analytics solutions?
Retail In-Store Analytics isbecoming essential to get a closer and more near-real-time view to key in-store metrics that have till now been unfathomable. Collecting the statistics of footfallusing people counting solutions (video based/ Thermal based / WiFi-based) and plugging this to In- store Analytics tools helps measure sales conversion by co-relating traffic inflow with the number of transactions and value of transactions. Apart from foot fall counting, Beacon based solutions in physical stores enable retailers to target customers in a better way by identifying customers and sending personalized promotions to them and engage better.The deep insights from such near real-time views of traffic, sales and engagement help in planningstore workforce needs based on traffic patterns. Comparison of store performances, optimizing campaign strategy, improved assortment and merchandising decisionsare all enabled with reliable In-store Data and Analytics Solutions.
Happiest Minds In-Store Analytics Solution
The key challenges with change management, technology implementation,work force management, back end operational challenges are holding back many players to leverage smart In-store Analytics solutions in physical stores. The expertise that Happiest Minds holds in the Retail Industry space helps you in addressing all these challenges in a better way. Our In-store Analytics solution that is available on the cloud or on-premise leverages digital technologies like mobile, beacon/ location tracking devices, video based people counting, analytics to monitor and improve your in-store efficiency, boost employee productivity and increase the sales growth. Our In store conversion dashboard with multi-dimensional drill down views provide location view, time view and demographic view of your key in- store metrics and KPIs.
Our Technology Enablers
A combination of Video , Thermal Imaging and Wi-Fi based people counting
Beacon Technology Implementation for better customer engagement
Mobile App Analytics for engagement around engagement/ reach-out effectiveness
POS Integrations to capture transaction data
Omnichannel insights on in-store metrics in co-relation to online behaviour and vice-versa
Features & Benefits
Dashboard with multi-dimensional drill down view – time, location, demography
Funnel View, Store Layout Views for intuitive and actionable business intelligence on Store performance
Real time insights on footfall, customer identification, engagement and conversions at store/ department/ zone level.
Applicable to Mall Owners to track store / mall performance
Reports that help identify customer buying patterns and preferences
Analytics to measure customer loyalty and engagement
Wi Fi usage Analytics
Social Media integration and analytics
Actionable business intelligence on store performance

Better map the customer journey and build stronger connection
Increase customer engagement and loyalty
Optimize retail Omnichannel operations
Sales staff optimization
Understand customer profiles and promote targeted offerings
Effective customer segmentation and campaign planning
Increase sales conversion
Resources
WHITE PAPERS