10th Edition Datacenter Virtual Summit & Awards 2021 powered by Vertiv
Date: 24th September 2021 | Time – 10:00 AM - 02:30 PM Venue: Virtual
An exclusive webinar on 10th Edition Datacenter Virtual Summit & Awards 2021 organized by UBS Forum, where India's largest, most influential gathering of industry expertise will discuss the evolving landscapes of datacenter and best strategies to keep them more relevant to the changing needs.
Mrs. Priya Kanduri, Vice President & CTO – IMSS, Head of Cyber Security Services, will also be a part of the panel discussion.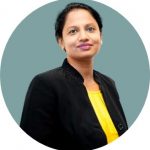 Agenda:
11:25 AM – 11:45 AM: Datacenter Security: Controlling Threat in your Business
This session will explore the changing risk landscape and discuss the latest approaches used to achieve more resilient and compliant dynamic datacenters.
Data security best strategies
Unleash the value of your existing IT security investments
Complying with the most important datacenter security standards
Strategies to continuously improve your security posture
Best Practical examples on how organizations are successfully following it
To schedule a meeting with us, reach out to us at [email protected] 
To know more and Register for the event, follow the link – http://datacentersummit.in/index.html