The Customer has Arrived: Genesys Happiest Minds Executive Series
Date: July 6, 2016 - 18:30 to 21:00 Venue: Royal Oak, Emirates Stadium, London
Happiest Minds organized a seminar 'The customer has arrived', in partnership with Genesys. The aim of the seminar was to explore the most topical and pressing Digital Transformation challenges in today's travel industry. This event was aimed at bringing industry's most senior executives together and it was well attended with over 40+ people.
The speakers of the session were:
Joerg Esser, Group Complementary Director, Thomas Cook Group
Fergus Boyd, Group Director, VP of Digital & IT, Yotel
Paul Richer, Senior Partner, Genesys Digital Transformation
Puneet Jetli, CEO – Digital Transformation and Enterprise Solutions, Happiest Minds Technologies.
The senior travel executives spoke in-depth about the implications of digital technology on travel industry. The attendees were offered a free workshop from Happiest Minds and Genesys.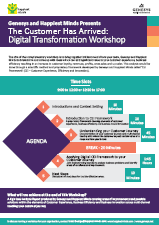 Here are the links to the presentations:
For more information, please contact [email protected]
Photo Gallery