Webinar : The Role of Artificial Intelligence and Cognitive Computing in a Digital World
Date: July 19, 2016 3:00 PM IST
Artificial Intelligence and Cognitive Computing has an increasing importance in the interconnected digital world. Data is being generated at a pace like never before. Abundance of Data generated by machines, social media, and others, along with advanced algorithms are allowing us to overcome the barriers of machine knowledge and opening new vistas of intelligence and insights being generated from data.
We will look into some of the latest applications of Artificial Intelligence and Cognitive computing and how various industries are getting transformed by this phenomenon. We will also explore some of the cutting edge algorithms that are playing a role in this digital revolution.
We will also look at some used cases in various domains/verticals and also what are the prospects of AI and Cognitive computing . Based on past experiences we will try to extrapolate and understand what the future holds for AI and cognitive computing.
We will take a look at a broad overview of the broad technologies which are being used today for the data processing as well as the insight generation from copious amounts of data. Explore also the basic concepts of Machine Learning and Deep Learning which are driving growth in the area of AI.
About the Speaker
Eron Kar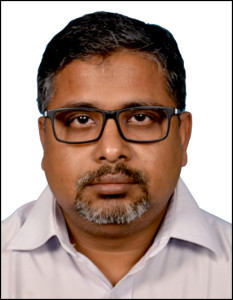 Practice Head – Analytics at Happiest Minds Technologies
Eron Kar is Analytics Business Leader with 14+ years of experience purely in Analytics and Consulting. He is seasoned quantitative marketing consultant and data scientist at heart with extensive knowledge of machine learning and Statistics. He has worked across domains like Retail, CPG, Loyalty, Banking, Manufacturing etc and has developed Big Data Infrastructure, Big Data solutions in the areas of unstructured Data Ingestion, Data processing and Advanced Analytics.