DevOps is no more a new concept and has successfully created an impact in the world of software development. DevOps has broken the traditional siloes mode of working and had established a culture of collaboration and automation between the software development and the operations teams, so that together they can build, test and release fast and more reliably.
Happiest Minds DevOps solutions help you achieve agile delivery of your software-driven innovations through better communication, collaboration, integration, and automation. We believe in building a lean framework that fuels agility and trust between the development, quality assurance, and IT operations team by building their ability to solve critical issues and manage the unplanned work across the software lifecycle.
7Cs of DevOps
Happiest Minds establishes DevOps practice by following an agile mantra "People over Process over Tools". We believe that DevOps is not only a change in process and tools, but also a change in mindset. Click the image to find out our 7Cs approach to achieve continuous delivery.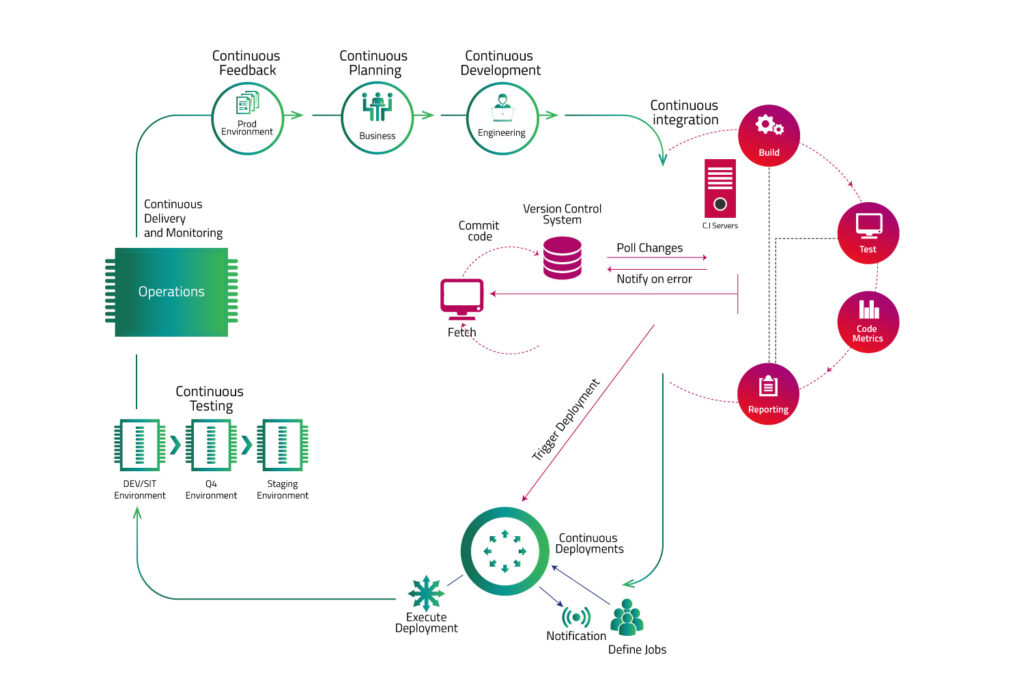 How we engage:
DevOps Assessment and Strategy Planning
Evaluating the current position of DevOps culture, process, and tool chain and accordingly determines your maturity model
Foresee the desired state and calk out a plan
Establish a traceable metric
DevOps Pilot Framework and Tool Stack Construction
Build a pilot framework to implement the standard DevOps setup
Integrating your existing tools with our robust ecosystem of open source and licensed tools at each step of agile delivery
Managed Services
Manage and enhance people skills, culture, process, tools, etc.
DevOps End-to-End Implementation
Analyze, design, construct, automate and implement according to the needs identified for each project