Organizations are constantly exploring new solutions to synchronize applications and systems internally and connect externally with partners, suppliers, and customer systems. Integration platforms endeavor to improve processes and align the needs of customers with company objectives. However, in order to provide a balanced perspective from different business units an organization would require an integrated business dashboard which enables timely and informed decision making.
iVu (InsightVu) is a pluggable integration platform/application that enables organizations to make better decisions by providing a 360-degree view of their valuable assets distributed across the globe and managed under different applications, in ONE single place.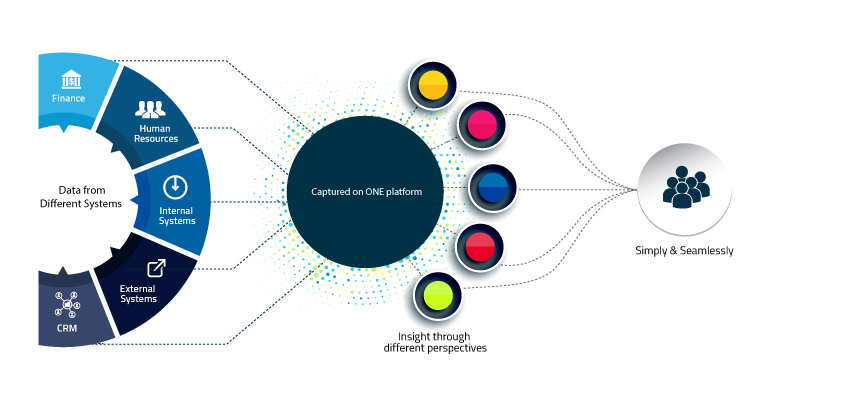 Why InsightVu
Often many organizations, irrespective of their size, invest in different applications over the years to solve their business problems. This results in an application sprawl which makes it incredibly tedious to manage all the associated business entities and assets. With many disparate applications, it is increasingly difficult for an organization to carry out a rationalization exercise and consolidate all their assets under one umbrella.
IVu solves this problem by providing a standard and easy way to configure and integrate different systems and retrieve data in a smart way. This application agnostic platform can be customized to view valuable assets from every aspect and align them effectively with a business structure to enable better decision making. It is a pluggable integration that provides a 360-degree view, is easily deployable and results in faster on-boarding. IVu provides a centralized event store and knowledge repository for better insights and control.
Organizations can define their own assets hierarchy/modeling and get different perspectives of their business which would help them in making better decisions. IVu takes the pain out of integration, as it is cost effective and incredibly fast.
Features & Benefits
Application Agnostic: View and synchronize assets from different applications in one place
Asset Modeling: Asset modeling allows organizations to have assets organized according to their needs
User Defined Attributes: Users can define tangible & intangible assets with user defined attributes
Customizable Dashboard: Customized dashboard along with CubeVu libraries allows organizations to have a more customized view for the asset attributes.
Event based actionable insight & information: Provides a centralized event store and knowledge repository for better insights and control

Benefits

Easy Deployment & Faster On-Boarding: Configuration based easy deployment and support for both on premise and cloud based deployments. It also supports a multi tenancy environment with a quick on-boarding of business assets
Offers Different Perspective: CubeVu is a unique view of an asset which depicts every aspect of that asset. Function based rules provide an easy way to define attributes for better perspectives
Smart Data Acquisition: Smart CubeVu processors resolve dependencies and put in places plan to acquire data from different sources in an efficient way. Also supports real-time data sources for a real-time view
Alert and Notification: Enables business users to create alerts and allows stakeholders to stay updated through notifications
Better Decision-Making: Enables better decision-making and organizations can create their own business and operational dashboards and quickly sharing it with others