Content is the king in retail and good product data, which is complete and accurate, can significantly enhance customer engagement and increase sales. If you want to know more about Happiest Minds solution that can facilitate this and offer customized solutions for your unique requirement(s), read on.
Challenges in Retail Product Data Quality today
Product content in retail is of high volume, it is multi-dimensional, and complex. Each category can have different sets of data, which changes constantly based on consumption patterns. For example, for a typical grocery retailer, the catalog size can vary from 100 to over 3000 categories. As a result, a typical product data grapples with several issues such as inconsistent information, experience issues related to the product image, and problems related to product information, among others. Moreover, the customer today is bombarded with information from multiple sources and demands a personalized experience. This exponential increase in data types and volume of data makes it imperative that an accurate picture of product content quality is understood and leveraged upon by businesses. However, manual methods to audit product data can be tedious and prone to errors, and sample auditing will not be representative of the actual data size. Besides, inherent errors in data provided by the supplier could go mostly unnoticed. These challenges demand an automated retail solution, which tracks deficiencies or mistakes in real-time, issues alerts and offers actionable insights, empowering retailers to make educated and smart decisions.
The Answer to Your Problems: PROAQT
PROAQT is an Artificial Intelligence (AI) and Machine Learning (ML)-driven cognitive data quality rule engine, which would enable proactive assessment of product content quality at scale, from the point of data capture to anytime in the product lifecycle. This will ensure that a clean, consistent and complete product data is available in the catalog for superior and trusted customer experience. Higher quality content will ensure that retailers can make informed decisions, besides adding to the consumer experience by creating value for the customer.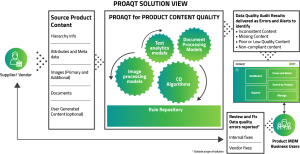 Why PROAQT
Automate highly manual tasks and remove chances of errors or miscalculations.
Facilitate a productive and seamless shopping experience.
Get access to accurate, relevant, and compelling content.
Automated CQ Rule Engine can be run on a variety of product content – hierarchy data, attributes/ meta data, images, documents, user generated content to identify different types of content errors. This includes:

Content inconsistencies (for example, title conflicts with values in specifications, and image conflicts with specification, etc.).
Missing content (for example, missing image, and missing data for key attributes).
Poor or low-quality content (for example, very small images, low resolution images, specifications or images with outrageous/promotional messages like 'world's best battery case').
Non-compliant content, which does not adhere to retailer content standards or guidelines (for example, vendor URLs in specifications, image not on white background).

PROAQT will ensure that timeliness of the checks is not reactive, but agile.
It will ensure that decision-making is not based on assumed compliance.
PROAQT will make sure that customer experience is not compromised as a result of undetected and unresolved mistakes or owing to bad/conflicting data content.
Features & Benefits
Built with a combination of best of breed tech stack: Microsoft Vision APIs and Open Source Stack with custom algorithmic models.
Has extendable rule repositories and can leverage limited third-party APIs.
Deep textual analytics and algorithms leveraging multiple statistical techniques around descriptive analytics and text mining to develop deep algorithms, which would enable error detection on numeric and categorical product metadata and attributes.
Custom image processing algorithms, OpenImage and Azure vision extensions to detect image-based errors and inconsistencies across multiple product images.
Re-usable rule engine can be customized and extended to suit retailer context specific business rules, semantics and content standards or guidelines
Business facing UI layer provides an intuitive mechanism to review all data quality errors to take corrective action internally or share externally with vendor community
Business dashboard provides insights on repeating data quality error types, most errors by department, by category, and by vendor, thereby enabling decision-making for improved data quality over time.

Content quality checks can be done proactively ahead of setting up new products or activation of products on channels or on an ongoing basis on existing products.
Improved product data quality: Achieve significant improvement in data quality with actionable insights that point towards repeating error types, most errors by division, by category, by the vendor, etc.
Significantly increase the scale of error analysis and data quality coverage due to automation.
Alerts are issued to identify and detect missing and/or inconsistent content, thereby facilitating higher quality content, good customer experience and more customer engagement
Ensure higher overall compliance with brand standards
The rule engine can be leveraged by multiple other functions like .com, product content management, and vendor management teams.