Bengaluru, India, San Jose, California and London, July 21, 2022: Happiest Minds Technologies Limited (NSE:HAPPSTMNDS), a 'Born Digital. Born Agile', digital transformation and IT solutions company, today announced its consolidated results for the first quarter ended June 30, 2022 as approved by its Board of Directors.
Financial highlights for Q1FY23 ended June 30, 2022
• Operating Revenues in US$ stood at $42.2 million (growth of 5.9 % q-o-q; 27.4% y-o-y)
• Total Income of ₹ 33,274 lakhs (growth of 7.2% q-o-q; 31.1% y-o-y)
• EBITDA of ₹ 8,775 lakhs, 26.4% of Total Income (growth of 7.6% q-o-q; 32.7% y-o-y)
• PAT of ₹ 5,634 lakhs (growth of 8.1% q-o-q; 57.7% y-o-y)
• Free cash flows of ₹ 8,639 lakhs
• EPS (diluted) for the quarter of ₹ 3.88 (growth of 8.4% q-o-q; 58.4% y-o-y)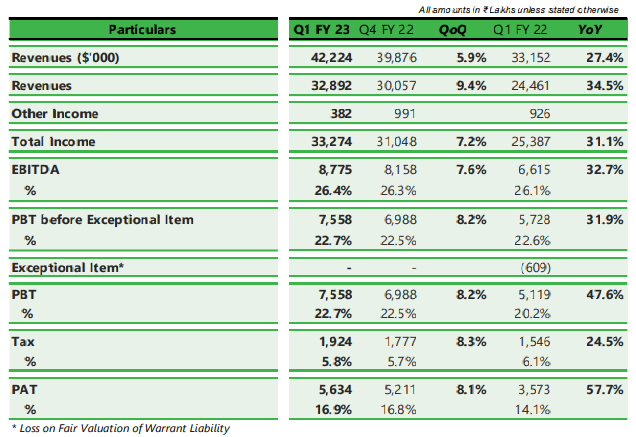 Ashok Soota, Executive Chairman, "We have started fiscal FY23 showing industry leading performance. Our 10-year vision statement is to be a billion-dollar Company by 2031. In line with this goal, based on the growth we are experiencing and continued demand for digital services, we are increasing our revenue guidance for FY 23 to 25% while targeting to grow at a CAGR of 25% over the next 5 years"
Venkatraman N, MD & CFO "I am very happy with our performance for the quarter. While we make changes to our revenue guidance reflecting our confidence on our ability to perform, we continue to hold onto our EBITDA margin guidance of 22% to 24%"
Joseph Anantharaju, Executive Vice Chairman, "Our performance continues to lead the industry with results that demonstrate the strategic relevance of our services and our trusted customer and ecosystem partnerships. The results were broad-based over delivery across all markets, services, and industries. The demand for our services remains strong as enterprises continue to tread the path of a multi-year technology upgrade cycle through cloud adoption & migration, data engineering, analytics, and intelligent automation"
Clients:
• 211 as of June 30, 2022
• 5 additions in the quarter
Our People – Happiest Minds:
• 4,188 Happiest Minds as of June 30, 2022 (net addition for the quarter 20)
• Trailing 12 months attrition of 24.4%
• Utilization of 79.1%, from 79.4% in last quarter
Key Project Wins:
• For a large British based construction and Infrastructure company, Happiest Minds is chosen as a digital technology partner to build an IoT and Analytics platform to deliver data led insights for improved operational efficiency, sustained competitive advantage and customer experience
• For a large bottling company in North America, Happiest Minds is chosen as a trusted advisor for their large-scale implementation of business intelligence transformation engagement to drive better business decisions
• For a leading Semiconductor company, Happiest Minds is providing engineering services support for their network security product
• For a reputed animal management solutions company in the ANZ region, Happiest Minds is providing engineering services to improve animal performance and drive better customer experience
• For a global tech led mobility company, Happiest Minds is advising on running, managing and improving their third-party risk assessment program using next gen digital tools
• For a non-profit organization in the US, this consulting led engagement entails Happiest Minds to provide discovery, assessment and design services for their infrastructure migration to cloud
Awards:
• Happiest Minds is ranked #29 in India's Best Companies to Work For 2022 by Great Place To Work® Institute
• Happiest Minds is recognized as a Finalist for Microsoft Partner of the Year Awards 2022 in Business Applications Power Automate Category
• Ashok Soota is conferred with the prestigious CII Quality Ratna Award 2021
• Priya Kanduri wins the 'Women in AI' award at Trescon World AI show, Dubai
• Happiest Minds' AI/Analytics CoE is a winner at the ET DataCon Awards 2022
Analyst Mentions:
• Happiest Minds is recognized as an 'Innovator' in NelsonHall's Digital Banking Services NEAT Report
• Happiest Minds is recognized as a 'Major Contender' in Everest's Digital Product Engineering PEAK Matrix
For further details please refer to the Investors presentation hosted on the company website – – Investors section
About Happiest Minds Technologies:
Happiest Minds Technologies Limited (NSE: HAPPSTMNDS), a Mindful IT Company, enables digital transformation for enterprises and technology providers by delivering seamless customer experiences, business efficiency and actionable insights. We do this by leveraging a spectrum of disruptive technologies such as: artificial intelligence, blockchain, cloud, digital process automation, internet of things, robotics/drones, security, virtual/augmented reality, etc. Positioned as 'Born Digital . Born Agile', our capabilities span digital solutions, infrastructure, product engineering and security. We deliver these services across industry sectors such as automotive, BFSI, consumer packaged goods, e-commerce, EduTech, engineering R&D, healthcare, hi-tech, manufacturing, retail and travel/transportation/hospitality.
A Great Place to Work-Certified™ company, Happiest Minds is headquartered in Bangalore, India with operations in the U.S., UK, Canada, Australia and Middle East.
Safe harbor
This release may contain certain forward-looking statements, which involves risks and uncertainties that could cause our future results to differ materially from those in such forward-looking statements. The COVID-19 pandemic could decrease our customers' technology spend, delaying prospective customers' purchasing decisions, and impact our ability to provide services; all of which could adversely affect our future revenue, margin, and overall financial performance. Our operations could also be negatively impacted by a range of external factors not within our control including those due to the pandemic. We do not undertake to update any of our forward-looking statements that may be made from time to time by us or on our behalf.
For more information, contact:
Media Contact:
[email protected]
Investors Relations:
[email protected]