FY23 Revenue grows 23.7% backed by a superior EBITDA margin of 26.2%
FY24 revenue guidance growth at 25%
Proposes final dividend of ₹ 3.4 per share
Bengaluru, India, San Jose, California and London, May 08, 2023: Happiest Minds Technologies Limited (NSE:HAPPSTMNDS), a 'Born Digital. Born Agile', digital transformation and IT solutions company, today announced its consolidated results for the fourth quarter and year ended March 31, 2023 as approved by its Board of Directors.
Ashok Soota, Executive Chairman, said "I am pleased to announce that Happiest Minds has delivered outstanding results for FY23 with 23.7% revenue growth and 26.2% of EBITDA. We have missed our revenue growth target by 1.3% due to the right-shifting of some Q4 revenues. This has been more than compensated by delivering an EBITDA which exceeded the upper band of our guidance of 22 to 24%. In view of our strong business pipeline, we are planning a record people addition of 1,300. Accordingly, we are retaining our FY24 revenue guidance growth at 25%."
Financial highlights
Quarter ended March 31, 2023:
Revenue in constant currency grew by 1.3% q-o-q and 17.6% y-o-y.
Operating Revenues in US$ stood at $46 million (growth of 1.4% q-o-q: 15.2% y-o-y)
Total Income of ₹ 38,643 lakhs (growth of 3.1% q-o-q; 24.5% y-o-y)
EBITDA of ₹ 10,062 lakhs, 26.0% of Total Income (growth of 3.5% q-o-q; 23.3% y-o-y)
PAT of ₹ 5,766 lakhs, 14.9% of Total Income (growth of 0.1% q-o-q; 10.7% y-o-y)
Free cash flows of ₹ 9,946 lakhs EPS (diluted) for the quarter of ₹ 3.98.
Year ended March 31, 2023:
Revenue in constant currency grew by 23.7%
Operating Revenues in US$ stood at $178 million (growth of 21.2% y-o-y)
Total Income of ₹ 145,040 lakhs (growth of 28.3% y-o-y)
EBITDA of ₹ 37,997 lakhs, 26.2% of Total Income (growth of 28.9% y-o-y)
PAT of ₹ 23,099 lakhs, 15.9% of Total Income (growth of 27.5% y-o-y)
Free cash flows of ₹ 36,480 lakhs
EPS (diluted) for the full year of ₹ 16.01.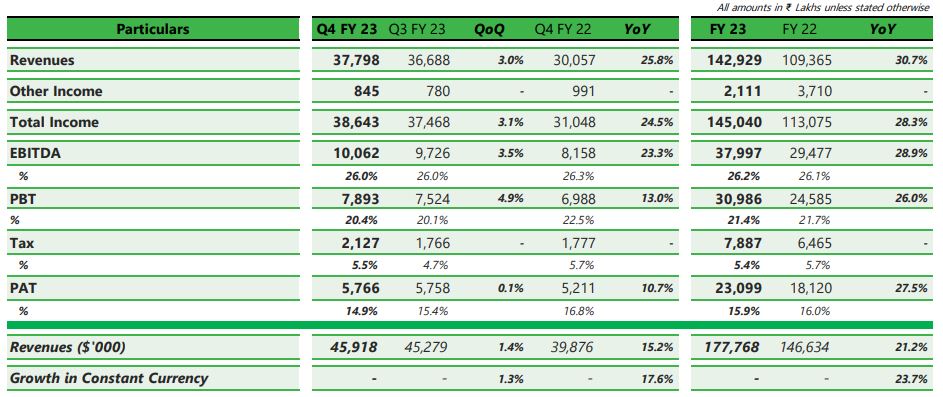 Venkatraman N, MD & CFO, said "Our excellent results both in terms of growth and profitability reflect our operating strengths.  This is the 12th successive quarter where we have reported EBITDA of more than 25%.  Based on our strong financial results we are happy to recommend a final dividend of ₹3.4 per share."
Joseph Anantharaju, Executive Vice Chairman, said "Our compelling value proposition and effective land and expand strategy has led to good performance on our customer metrics. The average revenue per customer and the number of billion-dollar corporations have shown consistent progression during the fiscal. We saw a marked improvement in pipeline and deal velocity in the second half of the quarter setting us up well for the first quarter and FY24."
Clients:
237 as of March 31, 2023
16 additions in the quarter
Our People – Happiest Minds:
4,917 as of March 31, 2023 (net addition for the quarter 306)
Trailing 12-month attrition of 19.8%
Utilization of 74.6%, from 80.1% in last quarter
Q4 FY23 Key Project Wins:
For a large EduTech company that enables learners and academic institutions to achieve their goals, Happiest Minds was chosen as their strategic partner to provide digital engineering and test automation services.
For a leading provider of hardware for the gaming industry, Happiest Minds was chosen to provide embedded and software development services.
For a world leader in the recreational travel and hospitality industry, this consulting-led engagement entails Happiest Minds to evaluate, recommend and advise for building their ESG Reporting Platform.
For a global industrial technology leader, Happiest Minds is providing application testing services.
For this existing client in the property and casualty insurance industry in North America, Happiest Minds has been chosen to provide security services.
For a large loyalty program provider in the ANZ region, Happiest Minds is chosen to provide consulting, support and implementation services to enhance security and privacy environments around data and cloud.
For this Australia-based existing client in the Quick Service Restaurant industry, Happiest Minds is a partner of choice in their digital transformational initiatives.
For a reputed Hi-Tech company providing digital transformational services in the middle east, Happiest Minds has been chosen to provide cloud migration services.
For an India-based international provider of quality B2B solutions in the higher education space, Happiest Minds is building their next-gen platform for test prep leveraging cloud.
For a reputed India-headquartered global automotive company, Happiest Minds has been chosen to provide engineering services leveraging 5G for their connected car program.
Recognitions:
Happiest Minds won the ICAI Award for Excellence in Financial Reporting 2021-22
Happiest Minds' MD & CFO, Mr. Venkatraman Narayanan recognized as a 'Leading CFO of the Year' at the CII CFO Excellence Awards 2022.
Happiest Minds is among the Top 50 India's Best Workplaces™ for Building a Culture of Innovation 2023.
Happiest Minds is among Top 10 India's Best Workplaces™ in Health & Wellness 2022
Priya Kanduri was awarded at 'Women In Tech Leadership Awards 2023' by AIM and the 'Women at Work Achiever of the Year 2023' by FKCCI 
Analyst Mentions
Happiest Minds is selected as 'Standout Case Study' – ISG Digital Case Study Awards 2022.
Announcements 
The Board of Directors of the Company at their meeting held on May 8, 2023, has recommended a final dividend of ₹3.4 per equity share of face value ₹ 2/- for the financial year 2022-23 subject to shareholder approval.
For further details please refer to the Investors presentation on the Company's website 
About Happiest Minds Technologies:
Happiest Minds Technologies Limited (NSE: HAPPSTMNDS), a Mindful IT Company, enables digital transformation for enterprises and technology providers by delivering seamless customer experiences, business efficiency and actionable insights. We do this by leveraging a spectrum of disruptive technologies such as: artificial intelligence, blockchain, cloud, digital process automation, internet of things, robotics/drones, security, virtual/augmented reality, etc. Positioned as 'Born Digital . Born Agile', our capabilities span digital solutions, infrastructure, product engineering and security. We deliver these services across industry sectors such as automotive, BFSI, consumer packaged goods, e-commerce, EduTech, engineering R&D, healthcare, hi-tech, manufacturing, retail and travel/transportation/hospitality.
A Great Place to Work-Certified™ company, Happiest Minds is headquartered in Bangalore, India with operations in the U.S., UK, Canada, Australia and Middle East.
Safe harbor
This release may contain certain forward-looking statements, which involves risks and uncertainties that could cause our future results to differ materially from those in such forward-looking statements. The COVID-19 pandemic could decrease our customers' technology spend, delaying prospective customers' purchasing decisions, and impact our ability to provide services; all of which could adversely affect our future revenue, margin, and overall financial performance. Our operations could also be negatively impacted by a range of external factors not within our control including those due to the pandemic. We do not undertake to update any of our forward-looking statements that may be made from time to time by us or on our behalf.
For more information, contact:
Media Contact: [email protected]
Investors Relations: [email protected]