Bengaluru, India, San Jose, California and London, May 12, 2021: Happiest Minds Technologies Limited (NSE:HAPPSTMNDS), a 'Born Digital. Born Agile', digital transformation and IT solutions company, today announced its consolidated results today for the fourth quarter and year ended March 31, 2021 as approved by its Board of Directors.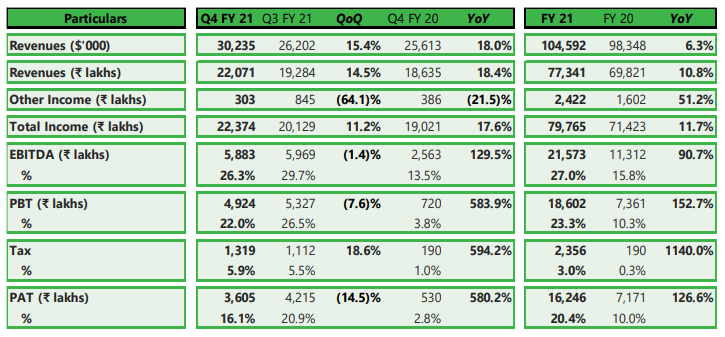 Ashok Soota, Executive Chairman, Happiest Minds Technologies said, "The highlight for the year FY21 was our successful IPO.  We have been able to fulfil all our promises and are grateful to our customers, our team, and all stakeholders, who helped make this possible.  As we begin FY22, we will look to achieving 20 percent organic growth as indicated at the time of our IPO."
Financial highlights:
Venkatraman N, MD & CFO, Happiest Minds Technologies talking on the financials said, "Our fiscal year revenue growth of 6.3% in US$ terms is reflective of our business model which positions us as a go to player for customers building a digital ready enterprise. Revenues for the quarter grew sequentially by 15.4% which includes Pimcore Global Services (PGS) the Company we acquired earlier during the Quarter.  Our growth for the quarter even on a standalone basis has been robust. Considering our performance, strong cash generation and capital allocation priorities, I am happy to highlight the maiden dividend of ₹ 3 per share recommended by the Board." 
Quarter ended March 31, 2021
Operating Revenues stood at $30.2 million (growth of 15.4% q-o-q ; 18.0% y-o-y)
Total Income stood at ₹ 22,374 lakhs (growth of 11.2% q-o-q ; 17.6% y-o-y)
EBITDA stood at ₹ 5,883 lakhs, 26.3% of Total Income (decline of 1.4 % q-o-q ; growth of 129.5% y-o-y)
PAT at ₹ 3,605 lakhs (decline of 14.5 % q-o-q; growth of 580.2% y-o-y)
Free cash flows of ₹ 5,853 lakhs for the quarter
Year ended March 31, 2021
Operating Revenues stood at $104.6 million (growth of 6.3% y-o-y)
Total Income stood at ₹ 79,765 lakhs (growth of 11.7% y-o-y)
EBITDA stood at ₹ 21,573 lakhs, 27.0% of Total Income (growth of 90.7% y-o-y)
PAT at ₹ 16,246 lakhs (growth of 126.6% y-o-y)
EPS(diluted) for the year is ₹ 11.45 (growth of 113.6% y-o-y)
Free cash flows of ₹ 21,476 lakhs
RoCE & RoE for the year stood at 31.2% and 29.8% respectively
Our Business:
Joseph Anantharaju, Exec. Vice Chairman, Happiest Minds Technologies said, "We continue to see good demand for digital skills across verticals, with good growth in EduTech, Industrial & Manufacturing and Retail. All our geos have demonstrated impressive growth, especially Middle East and Europe. We are truly among India's best companies to work, as reflected in our high Glassdoor rating of 4.3 and low attrition levels of 12.4%".
Clients:
173 as of March 31, 2021 23 additions during the quarter 
Our People – Happiest Minds:
3,228 Happiest Minds as of March 31, 2021 (net addition for the quarter 343; for the year 562);
Trailing 12 months attrition of 12.4%
Utilization of 82.6%, up from 81.6% in Q3 FY21
Key Project Wins: 
For a large US financial services company, Happiest Minds was chosen as a partner for implementing a cloud-based loan and leasing solution
For a leading US based Credit Union Services Organization, Happiest Minds was chosen to transform the legacy HR performance Solution
For a leading US manufacturer of electrical wiring and lighting control systems, Happiest Minds is building the next generation system to control, configure, and monitor their commercial lighting systems
For a large US professional services company, Happiest Minds is providing onsite and offshore IT Security services for Identity and Access Management
For a large Health care company in USA, Happiest Minds is providing managed security services for Governance risk and compliance and security operations
For one of the largest and most successful estate agency groups in the UK, Happiest Minds has been selected to deliver multi-year Managed Vulnerability and Penetration Testing Services
For a large UK based Utilities company, Happiest Minds has been selected to deliver a critical Cloud Transformation project
For a large bank in UAE, Happiest Minds is providing high end security services in the space of DevSecOps and Big Data Security.
Awards: 
Recognized with Peoplefirst's Leading Practices in Talent Acquisition Award
Preeti Menon, Senior Vice President, Product Engineering Services was recognized among the Top 25 Women Leaders in IT Managed Services of 2021 by IT Services Report
Announcements: 
The Board of Directors have recommended a final dividend of 150% (₹ 3 per equity share of par value ₹ 2 each) for the financial year ended March 31, 2021 which is subject to the approval of shareholders at the Annual General Meeting
For further details please refer to the Investors presentation hosted on the company website – – Investors section
About Happiest Minds Technologies:
Happiest Minds Technologies Limited (NSE: HAPPSTMNDS), a Mindful IT Company, enables digital transformation for enterprises and technology providers by delivering seamless customer experiences, business efficiency and actionable insights. We do this by leveraging a spectrum of disruptive technologies such as: artificial intelligence, blockchain, cloud, digital process automation, internet of things, robotics/drones, security, virtual/augmented reality, etc. Positioned as 'Born Digital . Born Agile', our capabilities span digital solutions, infrastructure, product engineering and security. We deliver these services across industry sectors such as automotive, BFSI, consumer packaged goods, e-commerce, EduTech, engineering R&D, hi-tech, manufacturing, retail and travel/transportation/hospitality.
A Great Place to Work-Certified™ company, Happiest Minds is headquartered in Bangalore, India with operations in the U.S., UK, Canada, Australia and Middle East.      
Safe harbor
This release may contain certain forward-looking statements, which involves risks and uncertainties that could cause our future results to differ materially from those in such forward-looking statements. The COVID-19 pandemic could decrease our customers' technology spend, delaying prospective customers' purchasing decisions, and impact our ability to provide services; all of which could adversely affect our future revenue, margin, and overall financial performance. Our operations could also be negatively impacted by a range of external factors not within our control including those due to the pandemic. We do not undertake to update any of our forward-looking statements that may be made from time to time by us or on our behalf.
For more information, contact:
Media Contact:
Investors Relations: