Bengaluru, India, San Jose, California and London, July 28, 2021: Happiest Minds Technologies Limited (NSE:HAPPSTMNDS), a 'Born Digital. Born Agile', digital transformation and IT solutions company, today announced its consolidated results today for the first quarter ended June 30, 2021 as approved by its Board of Directors.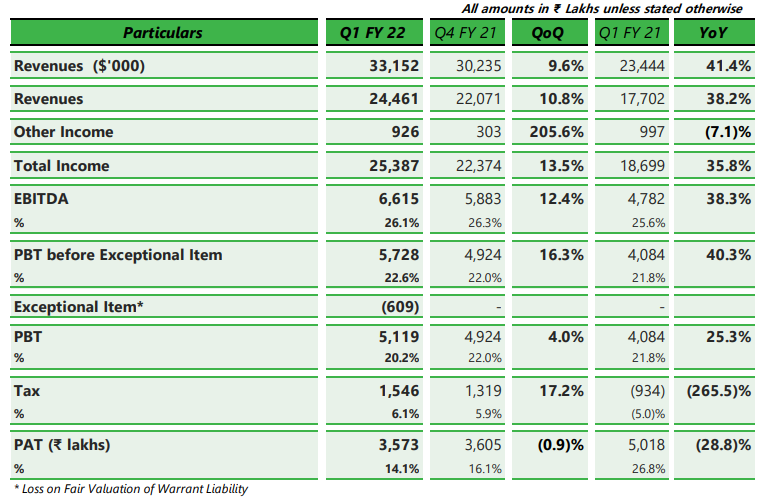 Joseph Anantharaju, Executive Vice Chairman, Happiest Minds Technologies said, "With our positioning in the market as a go to digital partner and the demand environment remaining buoyant, we have been able to record a good performance in this quarter. Our net headcount addition was strong as we onboarded 310 Happiest Minds, which reflects our ability to attract and retain good talent with our compelling people engagement programs".
Venkatraman N, MD & CFO, Happiest Minds Technologies talking on the financials said, "We have begun the fiscal on a solid footing with good growth and performance. Our operations and delivery remain resilient in the face of supply side pressures and the pandemic situation. Our financials this quarter has an exceptional expense on account of fair valuation of warrant liability in our balance sheet. The original liability represented the probable future payout obligation basis growth and profitability of PGS Inc. Fair valuation of the original liability basis performance of the acquired asset, and changes, either debit or credit, must be routed through the P&L. Basis increasing probability of payout on account of performance, we have fair revalued the liability leading to an exceptional expense of ₹ 6.1 Crores.
Our improving profitability means higher effective income-tax. Compared to the same quarter previous year wherein we had a significant tax credit by accounting for 'deferred tax asset', this quarter we have a full charge or expenses in line with our profits. 
Separately, I am happy to state that we have been able to settle an earlier reported employee discrimination suit in the US leading to a credit to our P&L of ₹ 2 Crores". 
Financial highlights for the Quarter ended June 30, 2021
Operating Revenues in US$ terms stood at $33.2 million (growth of 9.6% q-o-q ; 41.4% y-o-y)
Total Income of ₹ 25,387 lakhs (growth of 13.5% q-o-q ; 35.8% y-o-y)
EBITDA of ₹ 6,615 lakhs, 26.1% of Total Income (growth of 12.4 % q-o-q ; 38.3% y-o-y)
PAT of ₹ 3,573 lakhs (decline of 0.9 % q-o-q; 28.8% y-o-y)
Free cash flows of ₹ 6,569 lakhs for the quarter,
EPS (diluted) for the quarter of ₹ 2.45 (decline 1.2% q-o-q; 34.1% y-o-y )
RoCE & RoE (quarterly annualized) of 30.7% and 24.7%
Our Business:
Ram Mohan, Member of the Executive Board, Happiest Minds Technologies said, "Enterprises are rapidly scaling up their digital infrastructure through their Core Transformation, Everything-on-Cloud and Cloud Migration initiatives. Our quarterly results validate the commitment to our clients as we help them build and create seamless digital experiences across multiple channels."
Clients:
180 as of June 30, 2021
18 additions in the quarter
Our People – Happiest Minds:
3,538 Happiest Minds as of June 30, 2021 (net addition for the quarter 310)
Trailing 12 months attrition of 14.7%
Utilization of 82.1%, from 82.6% in Q4 FY21
Key Project Wins: 
For a multinational company, Happiest Minds was chosen as a partner to accelerate their Digital roadmap
For the software business group of a Fortune 500 company, Happiest Minds was chosen as a partner to consult on the API strategy for their on-prem and cloud products
For a leading US electric vehicle infrastructure company, Happiest Minds was chosen as a partner once again to build a real-time scalable Edge Analytics Solution for Asset Monitoring and Monetization.
For a large US leasing company, Happiest Minds was chosen to upgrade their cloud based leasing and origination services
For a large US based Telecom supplier, Happiest Minds has been chosen as a partner for their Cloud Security programs
For a leading European GameTech company, Happiest Minds has been chosen to build & deliver the Automation framework and services
For a leading Australian retailer, Happiest Minds was chosen as a partner for security incident response automation
Awards: 
Winner of "Golden Peacock Business Excellence Award" for the year 2021
Happiest Minds is among India's Top 25 Best Companies to Work for in 2021 by Great Place to Work® Institute
Happiest Minds is among Asia's Best Workplaces 2021 by Great Place to Work® Institute Analytics India Magazine: Top 50
Happiest Minds is ranked among Top 50 Companies for Data Scientists to Work For -2021 by Analytics India Magazine
Happiest Minds wins Times Ascent – World HRD Congress Global HR Excellence Awards 2021
Happiest Minds Technologies Wins 2021 IBM Geography Excellence Award for APAC Best in Class – Build on IBM Cloud Partner
Happiest Minds' two case studies recognized with 2021 ISG Digital Case Study Awards™
For further details please refer to the Investors presentation hosted on the company website – – Investors section
About Happiest Minds Technologies:
Happiest Minds Technologies Limited (NSE: HAPPSTMNDS), a Mindful IT Company, enables digital transformation for enterprises and technology providers by delivering seamless customer experiences, business efficiency and actionable insights. We do this by leveraging a spectrum of disruptive technologies such as: artificial intelligence, blockchain, cloud, digital process automation, internet of things, robotics/drones, security, virtual/augmented reality, etc. Positioned as 'Born Digital . Born Agile', our capabilities span digital solutions, infrastructure, product engineering and security. We deliver these services across industry sectors such as automotive, BFSI, consumer packaged goods, e-commerce, EduTech, engineering R&D, hi-tech, manufacturing, retail and travel/transportation/hospitality.
A Great Place to Work-Certified™ company, Happiest Minds is headquartered in Bangalore, India with operations in the U.S., UK, Canada, Australia and Middle East.
Safe harbor
This release may contain certain forward-looking statements, which involves risks and uncertainties that could cause our future results to differ materially from those in such forward-looking statements. The COVID-19 pandemic could decrease our customers' technology spend, delaying prospective customers' purchasing decisions, and impact our ability to provide services; all of which could adversely affect our future revenue, margin, and overall financial performance. Our operations could also be negatively impacted by a range of external factors not within our control including those due to the pandemic. We do not undertake to update any of our forward-looking statements that may be made from time to time by us or on our behalf.
For more information, contact:
Media Contact: [email protected]
Investors Relations: [email protected]