Successfully implemented for multiple customers
Bangalore, India and Princeton, New Jersey, October 20, 2015 – Happiest Minds Technologies, a next generation digital transformation, infrastructure and security and product engineering services company, announced the commercial release of mCaaS- (Managed Content as a Service), a SaaS based digital content brokering platform catering to the needs of diverse enterprises across multiple industries and domains.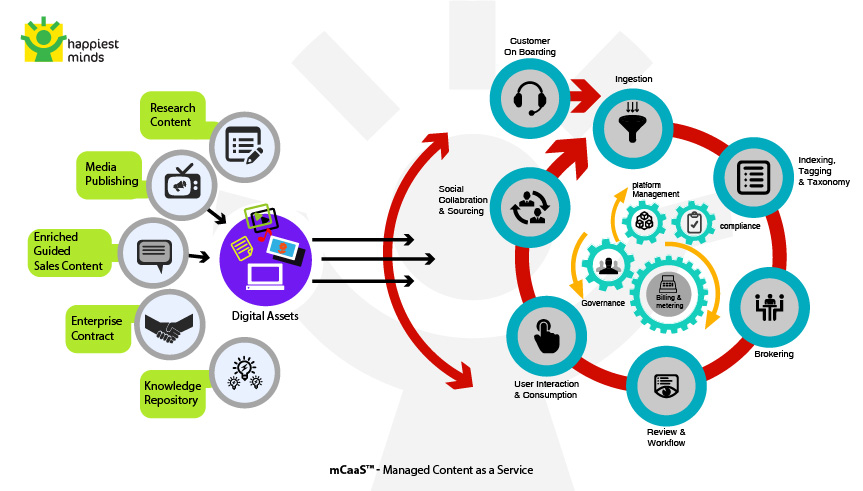 mCaaS is a digital content brokering platform which allows companies to deliver, manage and monetize their content like documents, social data, audio, video, images, etc. as per the user context. This allows smart, seamless and connected delivery of content flow for the enterprise, their end consumers, employees and business partners. mCaaS is offered as a Software as a Service (SaaS) based solution.
Digital content is the life blood of a typical digital transformation journey. While enterprises have invested in traditional systems like content management system to focus on content creation and life-cycle management, they are still struggling to deliver and monetize content that is personalized, dynamic and aggregated across multiple on-premise and cloud-based repositories.
"Enterprises are looking for catering to personalized or segmented content needs. We have specifically developed mCaaS to address two specific needs of today's enterprises. Firstly, to allow them opportunities to innovatively monetize their digital assets and secondly, to help them orchestrate and manage content split across multiple repositories. The fact that we do it through a cloud-based, light-weight, customizable and non-intrusive solution, makes mCaaS a very cost-effective and attractive proposition," said Puneet Jetli, CEO, Digital Transformation and Enterprise Solutions (DT&ES) Business.
Puneet further added, "For example, for one of our customers, which is an International Market Research Company, the mCaaS platform is facilitating them to generate a new revenue stream and monetize their digital content. The customer is expecting a revenue growth of 15-20% on top of their existing revenue streams in the first year of launch itself."
Features of mCaaS:
Complete or partial ingestion of real-time and offline data/content
Aggregate and orchestrate multiple digital content/assets from multiple source
Personalized content recommendation
Real time deep insight of user content consumption and interaction
Intelligent search across multiple channels and content sources
Intelligent ranking and filtering
Security and plagiarism protection
Some of the customer stories
For an International Travel and Hospitality Company, mCaaS Platform has enabled them to monetize their core entertainment products enabling 10-15% savings from business efficiency through increased business growth with improved product recommendation.
For retail industry, the solution creates 'Sell a Look' for consumers enabling them to virtually get, make, share and buy a look through innovative Digital Content Consumption. The solution is helping retailers increase their business via a self-guided tour of "Get a Look" and "Make a Look" for their consumers. This helps consumers get a 360 degree view before they make a purchase.
Digital assistant solution for service centers powered by mCaaS allows support associates to get relevant content dynamically through human interaction and cognitive search from multiple sources like CRM, local database, ERP etc.
About Happiest Minds Technologies

Happiest Minds is a next generation digital transformation, infrastructure, security and product engineering Services Company with 100+ customers , 1500+ people and 16 locations. Happiest Minds enables Digital Transformation for enterprises and technology providers by delivering seamless customer experience, business efficiency and actionable insights through an integrated set of disruptive technologies: big data analytics, internet of things, mobility, cloud, security, unified communications, etc. Happiest Minds offers domain centric solutions applying skills, IPs and functional expertise in IT Services, Product Engineering, Infrastructure Management and Security. These services have applicability across industry sectors such as retail, consumer packaged goods, e-commerce, banking, insurance, hi-tech, engineering R&D, manufacturing, automotive and travel/transportation/hospitality. Headquartered in Bangalore, India, Happiest Minds has operations in the US, UK, Singapore, Australia and has secured $ 52.5 million Series-A funding. Its investors are JP Morgan Private Equity Group, Intel Capital and Ashok Soota.
Website : https://www.happiestminds.com/
Email : [email protected]