Digital transformation is driving the business world, thanks to SMAC technologies. Are enterprises ready to grab the opportunities of these disruptive technologies? Global CXO's are realizing it will not be possible to satisfy tomorrow's competitive demands by leveraging yesterday's infrastructure. Striking the right balance between legacy infrastructure
and new technology platforms, with the reality of limited resources is a daunting challenge for enterprises of all sizes. New concepts like Digital Infrastructure, Software Defined Data Center (SDDC), Software Defined Storage (SDS) and Software Defined Everything (SDE) are driving enterprises' transition from traditional IT environment, emphasizing on efficiency, reliability and accuracy on one side, towards non-sequential environment emphasizing on experimentation, agility and speed. However, the transformation journey through these two diverse environments without any hiccups is quite challenging.
Current Challenges with Digital Infrastructure Transformation in IT
Lack of appropriate tools and platforms to enable transformation from legacy IT environment to advanced digital infrastructure
Keeping the lights on without affecting the transformation from traditional to modern IT
Lack of proven frameworks and roadmap for transformation
A platform which understands the legacy and the next generation infrastructure
Integration challenges of siloed multiple toolset for a unified view and manageability
Unified reporting for CXO, Business and IT
Leverage existing investments for the transformation journey
Why Infrastructure Transformation?
How can businesses address the current challenges with traditional infrastructure and best respond to the new age digital transformation IT requirements? How can they innovate, transform and set new directions for growth by leveraging the advanced digital technologies and infrastructure in a cost effective manner?
We at Happiest Minds with an intuitive platform- the Digital Infrastructure Transformation as-a-service (DiTaaS) enables a smooth transformation for your IT from traditional to advanced digital IT infrastructure, to meet your next generation digital transformation technology requirements. It transforms your traditional computing environment into a truly agile enterprise infrastructure and improves productivity, flexibility and accelerated time to market on a manageable budget.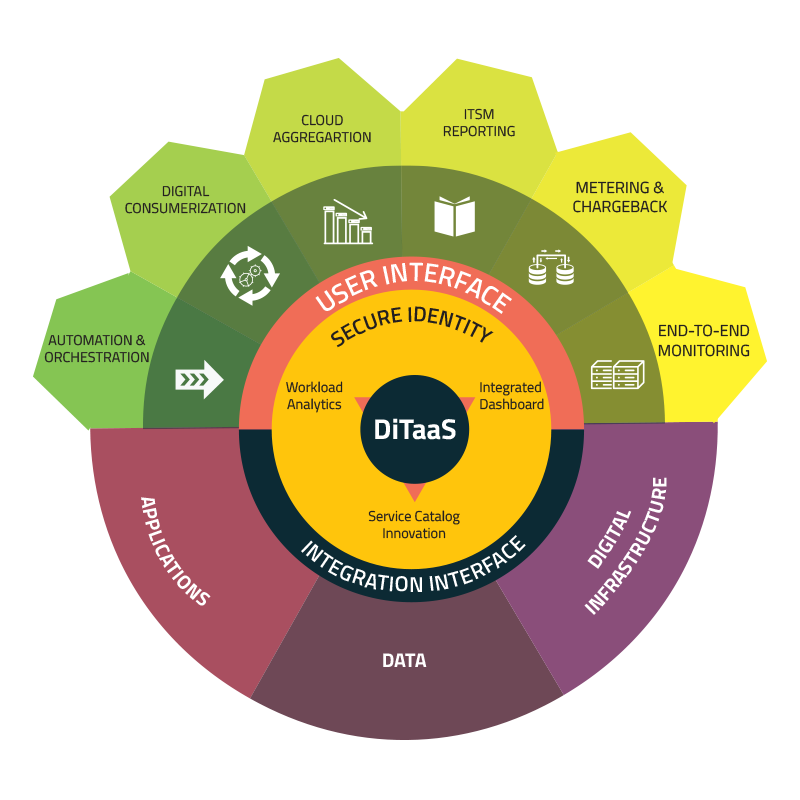 Why Happiest Minds for Digital Infrastructure Transformation?
In the current day world of Hybrid IT management of diverse IT infrastructure estates spread over on premise private cloud, public cloud and SaaS services, it becomes pertinent for enterprises to aggregate all the IT assets spread across the Hybrid IT environment for ease of monitoring, management and support
DiTaaS from Happiest Minds enables enterprises to activate a portfolio of infrastructure management, automation, orchestration, along with centralized management of cloud and on-premise services.
The managed platform enables enterprises in service innovation through aggregation and consolidation
DiTaaS enables agility through automation for build, provisioning and operations
Facilitates consumerization of enterprise IT-as-a-service with financing and accounting, creating a market place. Facilitates software defined components like Compute, Storage and Network offered through a marketplace that brokers multiple cloud platforms.
ITSM-on-demand with automated monitoring and service request management
Consolidates management of multi-vendor infrastructure, platform and application services across your business in a much secure and scalable manner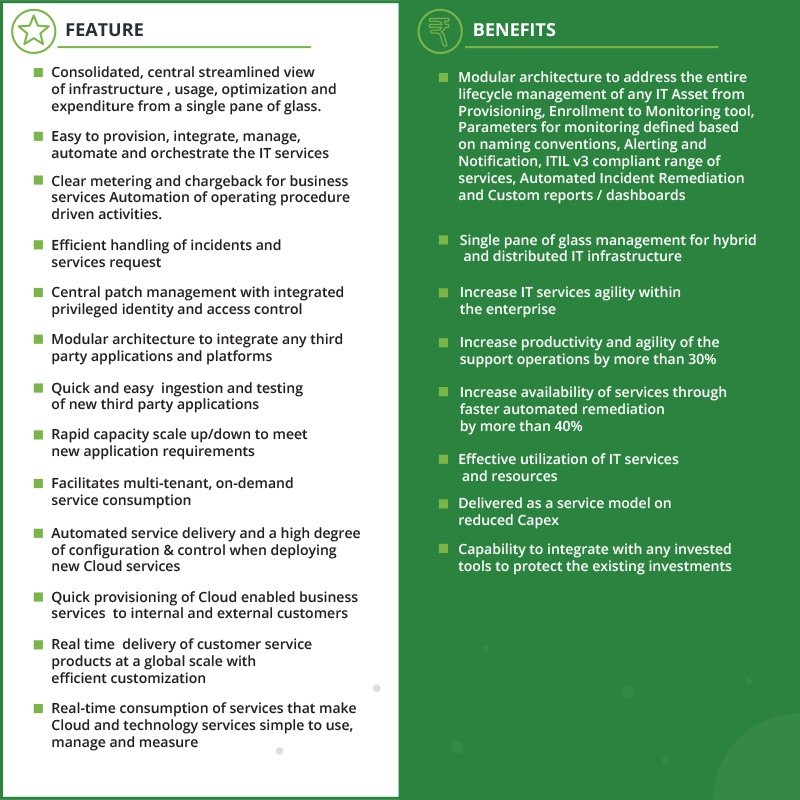 Services
Self-Service, market place for independent IT assets and service bundles
Metering and chargeback to any level of organizational unit hierarchy
Multi-currency and multi-lingual interfaces for distributed environment
Ability to offer IaaS, PaaS and SaaS service bundles through catalog management
Service catalog creation for custom offerings around VDI and workspace computing
Service Design and Provisioning
Service Aggregation and consolidation
Cloud orchestration
API based integration with other modules / tools
Reports and dashboards

Proactive monitoring of IT Assets spread across hybrid estates
Automated enrollment of provisioned instances with defined parameters / thresholds
Custom reports and dashboards

Monitoring of synthetic and non-synthetic transactions
Custom reports and dashboards

Entire range of ITIL v3 compliant services

Service Request Management
Incident Management
Problem Management
Change Management
Knowledge Management
Configuration Management Database

ITSM Reports for compliance
Custom reports and dashboards

Automated Service Request Fulfillment
Automated remediation for Standard Operating Procedure driven Incident Management
Automated patch management for approved patches / fixes
Mass roll-out of patches / updates
Automated Application release management
Updation of automated actions in the ITSM ticketing tool for audit and reporting purposes
Automated enrollment of workloads in Monitoring tool, CMDB and parameters to be monitored in the monitoring tool
Custom workflows development for automation based on incident analysis

Integration with Enterprise authentication to enable access governance
Ensure secure access that cannot be reused for increased security

Multi-tenant Custom portal
Role based access control
Integration with existing tools through API's
Widgets, dashlets and portlet features to customize dashboards based on preferences
Resources
WHITE PAPERS

Case Studies
Contact us